Making the Steve Jobs Movie: An Entrepreneurial Case Study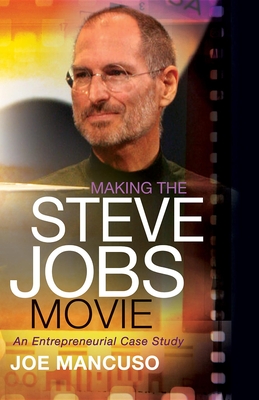 Making the Steve Jobs Movie: An Entrepreneurial Case Study
Out of Stock In Store (Click to Order)
Sometimes it's not a college degree that will make someone successful. Sometimes all it takes is a good idea, and the drive to seek the resources to help mold the idea into a plan and into reality.
Making the Steve Jobs Movie
is a dialogue between first-time movie producer Mark Hulme and several of his professional peers about the process to take the story of Steve Jobs and his irrefutable success to the big screen. It isn't a nuts-and-bolts story of the movie industry, and it isn't a story of
what
one entrepreneur should do to make his idea come to fruition. Instead,
Making the Steve Jobs Movie
reveals an inside-look into the discussions - in essence, a "visual"
how to
- that make successful ideas into successful realities. Joe Mancuso has more than 50 years' of experience as a successful entrepreneur and is the founder of CEO Clubs, of which Mark Hulme and his peers are members. With his help and the dialogue within
Making the Steve Jobs Movie
, Mancuso shows how anyone can apply the same principals and efforts as Jobs did to Apple and how Hulme did to his movie into making their own ideas and their own businesses successful.
Joe Mancuso is the founder of the worldwide CEO Clubs (www.ceoclubs.org), an association of CEOs with an average of about one hundred employees. He has written twenty-seven books and sold several million copies of previous works. Entrepreneurs have paid over $1.6 million to attend events he has arranged. Joe earned an Electrical Engineering degree from Worcester Polytechnic Institute, an MBA from Harvard Business School, and a doctorate from Boston University. He has six children and six grandchildren and lives with his wife, Karla, in Manhattan.
ISBN: 9781614488866
ISBN-10: 9781614488866
Publisher: Morgan James Publishing
Publication Date: 02/04/2014 - 12:00am
On Sale: 02/04/2014 - 12:00am
Pages: 158
Language: English
Categories
Development - Business Development