Puzzle Baron's Logic Puzzles: Hours of Brain-Challenging Fun!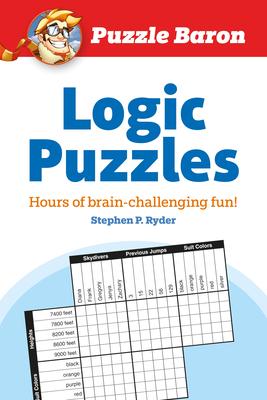 Puzzle Baron's Logic Puzzles: Hours of Brain-Challenging Fun!
Out of Stock In Store
Get your brain working with 200 grid-based logic puzzles from the Puzzle Baron!

Filled with complex and fun brain teasers that range in difficulty, this book will put your mind into overdrive with hours of brain-challenging fun.
Using the given backstory and list of clues, readers use pure logic to deduce the correct answer for each fiendishly tricky puzzle in Puzzle Baron's Logic Puzzles. Bring out your competitive side and check your stats against the average completion time, the record completion time, and the percentage of people who finish the puzzle. Check your work against the answer key and see how logical you really are!
Perfect for adults or children, Puzzle Baron's Logic Puzzles is the ultimate challenge for those who love piecing clues and facts together.

The brain is a wonderful thing to tease!
Stephen P. Ryder is the founder and editor of the Puzzle Baron network of websites (PuzzleBaron.com). These sites focus primarily on textual games and puzzles, including acrostics, cryptograms, logic puzzles, drop quotes, Sudoku, patchwords, and more. The Puzzle Baron network serves more than six million visitors annually, along with a dedicated registry of more than fifty thousand players who compete against each other for record scores and times. Stephen has published twelve puzzle books, including Puzzle Baron's Number Logic Puzzles.
ISBN: 9781615640324
ISBN-10: 9781615640324
Publisher: Alpha
Publication Date: 08/03/2010 - 12:00am
On Sale: 08/03/2010 - 12:00am
Pages: 224
Language: English
Categories
Games & Activities / Logic & Brain Teasers