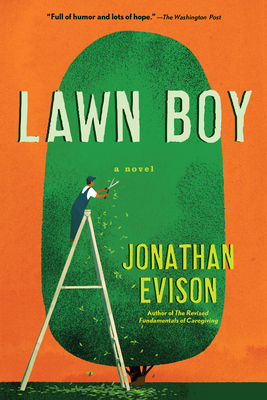 Lawn Boy
Likely On Our Shelves
One of the American Library Association's Top 10 Most Banned Books for the past two years, this award-winning coming-of-age novel takes readers into the heart and humor of a young man determined to achieve the ever-changing American dream. He just happens to find himself along the way.

"Mike Muñoz Is a Holden Caulfield for a New Millennium." --The New York Times Book Review

For Mike Muñoz, life has been a whole lot of waiting for something to happen. Not too many years out of high school and still doing menial work--and just fired from his latest gig as a lawn boy on a landscaping crew--he's smart enough to know that he's got to be the one to shake things up if he's ever going to change his life. But how? He's not qualified for much of anything. He has no particular talents, although he is stellar at handling a lawn mower and wielding clipping shears. But now that career seems to be behind him. So what's next for Mike Muñoz?

Funny, biting, sweet, and ultimately inspiring novel, bestselling author Jonathan Evison's coming-of-age novel evokes the lives of working class people with compassion and honesty. 
Jonathan Evison is the author of the novels All About Lulu, West of Here, The Revised Fundamentals of Caregiving, This Is Your Life, Harriet Chance!, Lawn Boy, and Legends of the North Cascades. He lives with his wife and family in Washington State.
Evison's acclaimed 2018 adult novel follows young Mexican-American Mike Muñoz (dubbed "the Holden Caulfield of the new millennium" by one reviewer) as he struggles with racism and class inequality. In 2021, a viral school board rant led to widespread bans. Accused of "pedophilia" for the book's LGBTQ+ content, Evison has received death threats – including some targeting his young children.
ISBN: 9781616209230
ISBN-10: 9781616209230
Publisher: Algonquin Books
Publication Date: 03/19/2019 - 12:00am
On Sale: 03/19/2019 - 12:00am
Pages: 336
Language: English
Categories