The Bedlam Stacks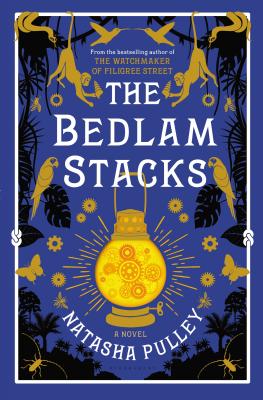 The Bedlam Stacks
Out of Stock In Store (Click to Order)
An Indie Next Pick

The eagerly anticipated new novel from the author of THE WATCHMAKER OF FILIGREE STREET--a treacherous quest in the magical landscape of nineteenth-century Peru.

In 1859, ex-East India Company smuggler Merrick Tremayne is trapped at home in Cornwall after sustaining an injury that almost cost him his leg. On the sprawling, crumbling grounds of the old house, something is wrong; a statue moves, his grandfather's pines explode, and his brother accuses him of madness.

When the India Office recruits Merrick for an expedition to fetch quinine--essential for the treatment of malaria--from deep within Peru, he knows it's a terrible idea. Nearly every able-bodied expeditionary who's made the attempt has died, and he can barely walk. But Merrick is desperate to escape everything at home, so he sets off, against his better judgment, for a tiny mission colony on the edge of the Amazon where a salt line on the ground separates town from forest. Anyone who crosses is killed by something that watches from the trees, but somewhere beyond the salt are the quinine woods, and the way around is blocked.

Surrounded by local stories of lost time, cursed woods, and living rock, Merrick must separate truth from fairytale and find out what befell the last expeditions; why the villagers are forbidden to go into the forest; and what is happening to Raphael, the young priest who seems to have known Merrick's grandfather, who visited Peru many decades before. The Bedlam Stacks is the story of a profound friendship that grows in a place that seems just this side of magical.
Natasha Pulley studied English Literature at Oxford University. After stints working at Waterstones as a bookseller, then at Cambridge University Press as a publishing assistant in the astronomy and maths departments, she did the Creative Writing MA at UEA. She later studied in Tokyo, where she lived on a scholarship from the Daiwa Anglo-Japanese Foundation. She was chosen to be a Writer in Residence at Gladstone's Library and is now associate lecturer at Bath Spa University and panel tutor at the Cambridge University Institute of Continuing Education. Her first novel, The Watchmaker of Filigree Street, was an international bestseller, won a Betty Trask Award and was shortlisted for the Authors' Club Best First Novel Award. The Bedlam Stacks is her second novel. She lives in Bath.

@natasha_pulley
by Jordan
Wed, 05/27/2020 - 2:38pm
A 19th century South American adventure to steal trees, then things get weird. It's 1859 and Merrick Tremayne is called up from his crumbling country estate - despite his bad leg - to trek through dangerous Peru to steal quinine plants. Things don't happen according to plan and in fact get a bit surreal. This book is so delicately constructed and full of small intricacies that keep the feel of the story with you long afterward.
ISBN: 9781620409671
ISBN-10: 9781620409671
Publisher: Bloomsbury USA
Publication Date: 08/01/2017 - 12:00am
On Sale: 08/01/2017 - 12:00am
Pages: 352
Language: English
Categories