World War II Workbook, Grades 6 - 12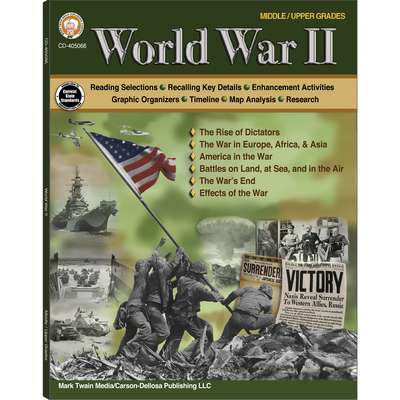 World War II Workbook, Grades 6 - 12
Backordered
Book Features:
- 128 pages, about 8 inches x 11 inches
- Ages 11-18, Grades 6-12
- Covers the events that led up to and were part of World War II
- Features activities for individual and small-group discussion
- Activity and Recalling Key Details pages included
Hands-On Learning: Mark Twain's World War II History Book helps 6th-12th graders strengthen their world history knowledge through insightful and interactive learning that teaches them about the events leading up to and following World War 2.
What's Included: The 128-page book features reading selections with each lesson, as well as Activity and Recalling Key Details pages which focus on reading comprehension skills and include graphic organizers to organize information in creative ways.
Correlated To State Standards: This standards-based book teaches world history through topics covering the rise of dictators, the beginning of the war, fighting in Europe, Africa, and Asia, naval, air, and land battles, the Holocaust, and more.
Interactive Learning: Interactive activities, writing prompts, and topics are provided to encourage classroom or small-group communication, open-ended discussions, and enhance critical thinking skills in a fun and engaging way.
Why Mark Twain Media: Designed by leading educators, Mark Twain Media Publishing Company specializes in providing captivating, supplemental books and resources in a wide range of subjects for middle- and upper-grade classroom success.
ISBN: 9781622238514
ISBN-10: 9781622238514
Publisher: Mark Twain Media
Publication Date: 02/15/2021 - 12:00am
On Sale: 02/15/2021 - 12:00am
Pages: 128
Language: English
Categories
Teaching - Subjects - Social Science