The Rawsome Vegan Cookbook: A Balance of Raw and Lightly-Cooked, Gluten-Free Plant-Based Meals for Healthy Living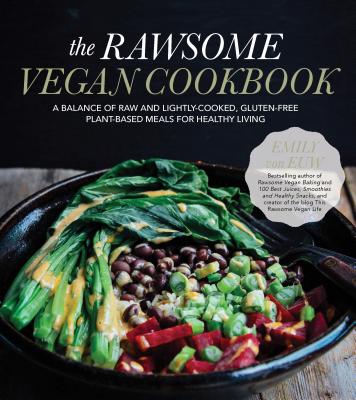 The Rawsome Vegan Cookbook: A Balance of Raw and Lightly-Cooked, Gluten-Free Plant-Based Meals for Healthy Living
Be Happy and Healthy with Scrumptious, Wholesome Plant-Based Meals

Emily von Euw is back and better than ever, this time with mouthwatering raw and lightly-cooked savory recipes to delight any palate, whether you're vegetarian, a raw vegan or just looking for something healthy, interesting and delicious to add to your dining. The wide selection of stunning main dishes are easy to make and so tasty, you'll be celebrating veggies instead of missing meat and dairy.

With her spectacular photography and witty banter, Emily envelops all of your senses with this collection of over 80 enticing recipes, each paired with a beautiful photo. Choose the raw chapter for light, hydrating and colorful meals including Rawsome Pizza, Epic Portobello Yam Burgers and Zucchini Noodle Lasagna. Or choose the lightly-cooked chapter for hearty, nourishing and grounding dishes like Mac + Cheeze, Freedom Falafel and Pumpkin Soup. Emily's comforting, creative and phenomenal eats will wow your taste buds, and make you feel energized and nourished from the inside out.
Emily von Euw is the author of the bestselling books Rawsome Vegan Baking and 100 Best Juices, Smoothies and Healthy Snacks. She is the creator of the blog This Rawsome Vegan Life, winner of The Vegan Woman's Vegan Food Blog Award and named one of the Top 50 Raw Food Blogs by the Institute for the Psychology of Eating. She was a featured speaker at the Vancouver Veg Expo and Spokane Vegfest. She lives in British Columbia, Canada.
ISBN: 9781624141713
ISBN-10: 9781624141713
Publisher: Page Street Publishing
Publication Date: 12/08/2015 - 12:00am
On Sale: 12/08/2015 - 12:00am
Pages: 192
Language: English
Categories