50 More Ways to Soothe Yourself Without Food: Mindfulness Strategies to Cope with Stress and End Emotional Eating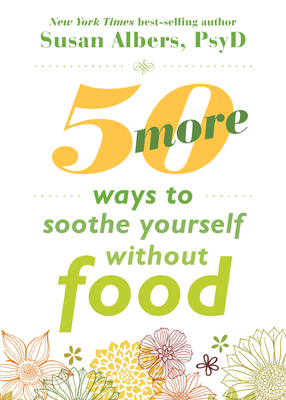 50 More Ways to Soothe Yourself Without Food: Mindfulness Strategies to Cope with Stress and End Emotional Eating
In this much-anticipated follow-up to 50 Ways to Soothe Yourself Without Food, renowned nutrition expert and New York Times best-selling author of Eat Q, Susan Albers delivers fifty more highly effective ways to help you soothe yourself without eating--leading to a healthier, happier life
If you're an emotional overeater, you may turn to food to cope with stress and sadness, enhance joy, and bring a sense of comfort. But, over time, overeating can cause weight gain, heart disease, diabetes, and many other health problems. In 50 More Ways to Soothe Yourself Without Food, you'll find fifty more mindful and healthy activities to help you replace your need to overeat.
Based in popular mindfulness practices, this book will show you how to slow down and be present during mealtime so that you end up making healthier choices. In addition, the activities in the book--such as yoga, aromatherapy, and breathing exercises--will help you gain a greater overall sense of well-being and appreciation for your body.
If you're ready to stop using food as an emotional crutch, and start feeling healthy, happy, and truly fulfilled, this book offers fifty more ways
Susan Albers, PsyD, is a psychologist at the Cleveland Clinic who specializes in eating issues, weight loss, body image concerns, and mindfulness. Albers conducts mindful eating workshops across the country, and is a frequent keynote speaker. She is author of seven mindful eating books, including the New York Times bestseller Eat Q; 50 Ways to Soothe Yourself Without Food; But I Deserve This Chocolate!; Eating Mindfully; Eat, Drink, andBe Mindful; and Mindful Eating 101. Her work has been featured in O, Family Circle, Shape, Prevention, Self, Health, Fitness, Vanity Fair, Natural Health, and The Wall Street Journal. She has been a guest on The Dr. Oz Show, and is also a contributor to TheHuffington Post and Psychology Today. Get inspired to start eating more mindfully today! For a free download of the 20 best motivational quotes, visit http: //www.eatingmindfully.com/motivation.
ISBN: 9781626252523
ISBN-10: 9781626252523
Publisher: New Harbinger Publications
Publication Date: 12/01/2015 - 12:00am
On Sale: 12/01/2015 - 12:00am
Pages: 336
Language: English
Categories