Climaturity: A Journey Into the Muddy Climate Middle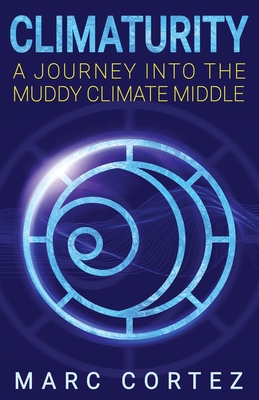 Climaturity: A Journey Into the Muddy Climate Middle
Out of Stock In Store
In Climaturity, Marc Cortez advocates for a transparent climate discussion where half-truths are completed, climate science limitations are put into context, and politicians are held accountable for spending taxpayer dollars.
Climaturity offers a new perspective on the climate controversy through the pragmatic lens of a long-time renewable energy industry veteran. Part science, part satire and part snark, he takes a stand against the climate panic movement.
There seems to be only two sides in the climate discussion. On one side are the climate deathers, those who truly believe our planet's heating atmosphere is leading to human extinction; and on the other side are the climate deniers, those who believe that all's-fine-and-there's-nothing-to worry-about-here. Try having a conversation with someone on either side and you'll see what I mean.
Most of us, however, lie somewhere in the climate middle between those two extremes.
We believe the planet is warming and that mankind has had some impact on it, yet we don't know how serious it really is.
We're told by the climate media that we're dying, yet we're not. We're told by climate scientists that their models accurately predict the future, yet they're wrong every time. We know it's a different type of science -- one that uses models to predict the future instead of tests that prove scientific certainty -- yet no one explains the difference and why we should believe it. We're told by our leaders it's Armageddon and an existential crisis right before they board their gas-fueled jets and call OPEC to deliver more oil. They scare our children then celebrate their fear on magazine covers. We're told the debate is over and when we ask questions we're yelled at, labeled, ostracized and bullied -- then handed the check to fix the problems.
Above all, no one is telling the full truth, and we know it.
This is no way to fix a global problem.
"I've spent nearly 25 years on the front lines of the climate battle and have worked hard to solve our climate problems. I've worked for and built companies in solar, electric vehicles, energy storage, and now water conservation -- and have fought the good fight. I, along with my colleagues and competitors, were united in the fight towards a better climate future. I'm proud to have worked on the climate front lines for as long as I have."
But the climate death narrative has changed the dynamic and screeched climate progress to a halt. We've let the climate deathers steal the bullhorn, creating blueprints to scare us, strategies to sue us, and campaigns to tax us. Today as a university professor I deal with these after-effects daily: young adults suffering from acute eco-anxiety, this suppressive feeling that our climate journey is hopeless and that their children will likely die from runaway climate change. And so I ask: How did we fail our children so miserably?
About the Author
Marc Cortez is a Climate Reality Advocate, author, entrepreneur and long-time veteran of the solar, electric vehicle infrastructure, and energy storage industries. As one of the solar industry's early brand architects, he has been working on the front lines of the climate change industry for decades. He has raised over $20M for multiple startups, and is currently the Founder/CEO of Liquid8, a water conservation startup. Mr. Cortez is also a professor of Entrepreneurship and Technology Commercialization at Cal Poly, San Luis Obispo.