Project Management for Parents: Engage the Family, Build Teamwork, Succeed Together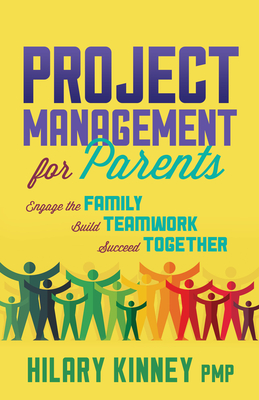 Project Management for Parents: Engage the Family, Build Teamwork, Succeed Together
Out of Stock In Store (Available to Order)
Project Management for Parents helps families strengthen their relationships and reduce stress by applying techniques, normally used by billion-dollar companies, to streamline their busy lives.
In today's day and age, especially amidst the changes brought about by a global pandemic, parents, stepparents, guardians, and caregivers need a set of tools that can be used with children of any age to help them focus on their priorities, get organized, and boost productivity. In Project Management for Parents, Hilary Kinney provides an accessible, repeatable framework that can transform their approach to any kind of task at home in three steps:

Step 1: Build TeamworkStep 2: Establish Your ApproachStep 3: Succeed as a Family
What's more, these same principles help improve family relationships by creating a positive environment, fostering communication, and encouraging children to think and act independently. This practical guidebook includes easy-to-understand exercises and tools that both parents and children can use, along with 25 real-life examples like selecting a childcare provider, managing homework, discussing risky teenage behavior, applying to college, and moving to a new city. Hilary shows parents how to apply proven project management concepts to family life, equipping families to successfully achieve their goals--together.
ISBN: 9781631956331
ISBN-10: 9781631956331
Publisher: Morgan James Publishing
Publication Date: 02/01/2022 - 12:00am
On Sale: 02/01/2022 - 12:00am
Pages: 204
Language: English
Categories