God's Ex-Girlfriend: A Memoir about Loving and Leaving the Evangelical Jesus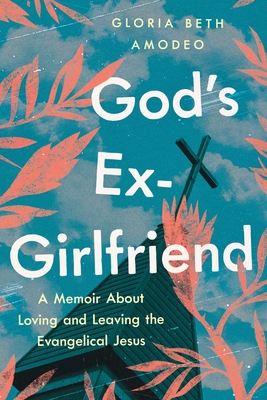 God's Ex-Girlfriend: A Memoir about Loving and Leaving the Evangelical Jesus
Out of Stock In Store
"How does a charming, insecure girl from a troubled family become an evangelist for a Christian fundamentalist movement that seeks to govern her every thought and action? God's Ex-Girlfriend is a wry, poignant, and unflinchingly honest memoir that unveils the cult-like operations of Campus Crusade for Christ. Now known as 'Cru, ' the 'parachurch' has been a formidable component of the Religious Right's political infrastructure. Amodeo's account shows how she was drawn into the movement, and how she finally broke free of its control into a fulfilling new life."--Anne Nelson, author, Shadow Network: Media, Money, and the Secret Hub of the Radical Right
"God's Ex-Girlfriend is an invaluable exploration of the human dynamics and insecurities that can make even very intelligent adults susceptible to conversion to high-control religions like evangelical Protestantism. In her frank, relatable, and sometimes laugh-out-loud funny prose, Gloria Beth Amodeo exposes the subtle manipulation techniques, love bombing, and exploitation of trauma evangelicals use on those they target for conversion. While she doesn't shy away from the predatory nature of conversion efforts, Amodeo also shows us the seductive side of gaining "spiritual family" and certainty about ultimate questions in a world that is often chaotic and frightening. More importantly, she takes us on a journey of identities gained and lost that ends with the triumph of her human spirit in her deconversion, convincingly demonstrating that the cost of the comforts and certainty that high-control religion offers your soul, your agency, your individuality--is far too high."--Chrissy Stroop, editor, Leaving the Pews: Stories of People Leaving the Church
Gloria Beth Amodeo was a freshman in college when she met someone who would change the trajectory of her life. Cate was smart, beautiful, and an evangelical Christian. Soon, Gloria had left behind her troubled family--which included her
mother's mental illness and addiction to pills--and joined Cate as a member of Campus Crusade for Christ (now known as Cru).
Embracing her newfound belief system, Gloria became a cultural warrior for Jesus, militantly focused on converting everyone she met to her conservative brand of Christianity. Over the next seven years, she spent spring breaks preaching to MTV partygoers in bikinis; hung out in bars as she tried to convert her fellow creative writing students in New York City; and kept a strenuous hold on her virginity, as she considered herself to be in a relationship with God.
Slowly, she came to realize that a God who believed that people were going to hell, sex before marriage was a sin, and that men had the final say in all marital and relationship matters, among other things, was not a God she wanted to "date" any longer.