Lucky Penny: Color Edition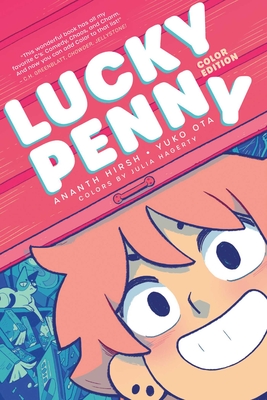 Lucky Penny: Color Edition
Out of Stock In Store
"I LOVE IT! Penny is a human disaster after my own heart!" — ND Stevenson, bestselling author of Nimona

If Penny Brighton didn't have bad luck, she'd have no luck at all. She lost her job and apartment on the same day, and with no other options, she started crashing at her best friend Helen's storage unit. As a last resort, Penny snags a job at the laundromat, which is managed by Helen's surly twelve-year-old brother. Things couldn't get much worse, but that doesn't keep the ever-buoyant Penny down. After all, she's been sensing boyfriend potential with the cute receptionist at the community center who's been sneaking her in so she can use the shower. Maybe things are looking up! But if Penny knows one thing for certain, it's that luck has never been her strong suit. How long can this last?
Yuko Ota is an award-winning cartoonist from Brooklyn, NY. She has worked with Abrams Books, Oni Press, BOOM!, Dark Horse, Lerner Publishing, and more. Her current focus is the Reuben Award-winning Barbarous, a comedy-drama involving magic and monster men.