Quitless: The Power of Persistence in Business and Life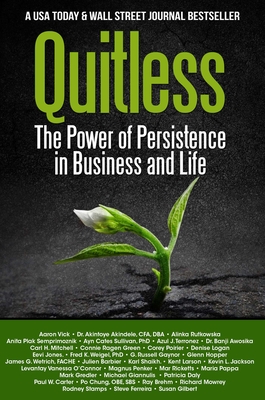 Quitless: The Power of Persistence in Business and Life
By Alinka Rutkowska ,
Patricia Daly ,
Vanessa Taylor-OCONNOR ,
Susan Gilbert ,
Richard Mowrey ,
Kevin Jackson ,
Aaron Vick ,
Glenn Hopper ,
Julien Barbier ,
Connie Ragen Green ,
Poirier Corey ,
Karl Shaikh ,
Mike Giannulis ,
Magnus Penker ,
Russell Raynor ,
Mar Ricketts ,
Carl Mitchell ,
Maria Pappa ,
Mark Gredler ,
Rodney Stamps ,
Ray Brehm ,
James Wetrich ,
Fred Weigel ,
Azul Terronez ,
Po Chung ,
Yvi Jones ,
Ayn Sullivan ,
Anita Semprimoznik ,
Steve Ferreira ,
Kent Larson ,
Olakunle Soriyan ,
Gregory Magruder
Backordered
QUITLESS is not just another anthology encouraging you to "mush on" in the face of hardship or to "manifest your dreams." It is an honest, thoughtful look at the mental fortitude and dexterity it takes to own the title of tomorrow's great entrepreneur.

HELICOPTER CRASHES, CORPORATE LAYOFFS, AND EVERYTHING IN BETWEEN: UNDERSTANDING THE MINDSET OF THE UNSHAKEABLE!
Every single day there is an entrepreneur that comes to life for the first time – and every single day there is another, who is giving up on their dreams. Eleven letters. That's all that separates them. Why are some catapulted to great professional heights, where others fail? Persistence. QUITLESS is a comprehensive anthology of some of the most successful, die-hard, and tirelessly working entrepreneurs in the world. Together they weave a compelling narrative about the cruciality of learning to pick yourself up, dust yourself off and get back in the game. Direct from the source, learn the art of responding purposefully, deliberately and pragmatically to the myriad obstacles standing between you and your own personal success story.
Start reading now to:
Learn specific tactics and strategies for perseverance in the face of overwhelming odds
Develop a mindset that welcomes challenges and adversity via cognitive programming
Explore the value and usefulness of failure in developing resilience and new points of view
Understand the paramount importance of orienting yourself in the right direction before you unleash your will power
Set yourself apart as a forward-thinking leader of tomorrow's professional landscape
Save time, energy and fiscal resources by consistently checking in with your personal and professional "Why?"
Understand how blind persistence can actually be a massive impediment to your own success
Learn about how some of the greatest in the game, almost never were
Whether you're an artist, a teacher, a programmer or an entrepreneur - come one, come all! Set yourself up for continued success by conditioning your mind to adapt, overcome and thrive!
The life you've always dreamed of living is right here, on the other side of fear - grab your copy of QUITLESS today!
Alinka Rutkowska is the CEO of Leaders Press (www.leaderspress.com), a USA Today and Wall Street Journal best-selling press, where she creates books for entrepreneurs from scratch and launches them to best-seller status with a 100% success rate.

She's worked with top business leaders such as Po Chung (the co-founder of DHL International), Mark Nureddine (the CEO of Bull Outdoor Products) and Chris Catranis (the founder of Babylon Telecommunications).

Leaders Press's releases have landed on bookshelves together with Nobel Prize winners and World Economic Forums speakers. Alinka's mission is to help 1,000 entrepreneurs share their wisdom with the world by 2030.

Alinka is an official member of the Forbes Business Council and her cutting-edge book creation process has been featured in Entrepreneur magazine.

Aaron Vick is an inventor, a bestselling author, and a self-proclaimed technology nerd who was part of the original design and ownership team of CaseLogistix. His eighteen years' experience as a law firm consultant and expert witness has taken him to the United States, Canada, Australia, Central America and the United Kingdom. In so doing, Aaron has aided firms and their respective clients in overcoming the unique challenges of modern complex litigation. Furthermore, his consulting and software implementations laid the foundation for what would later become the EDRM.



As Chief Executive Officer, Aaron led Cicayda through an M&A in 2020, all the while driving innovation with the launch of new technology focused on the emerging data sources within discovery. Currently, Aaron is Chief Visionary Officer at TCDI and routinely speaks on discovery best practices and trends. He remains active in various international groups and communities to discuss the evolving standards and regulations surrounding discovery practices.

A former Navy journalist, filmmaker, and business founder, Glenn Hopper has spent the past two decades helping startups transition to going concerns, operate at scale, and prepare for funding and/or acquisition. He is passionate about transforming the role of chief financial officer from historical reporter to forward-looking strategist. He has served as a finance leader in a variety of industries including telecommunications, retail, internet, and legal technology. He has a master's degree in finance with a graduate certificate in business analytics from Harvard University, and a master's degree in business administration from Regis University. Glenn is married with three children, two goldendoodles, and a neurotic cat. Glenn is also a member of American Mensa and volunteers his time for the Analytics Foundation, helping nonprofits to digitally transform their organizations. In his free time, Glenn is an avid runner and cyclist.

Julien Barbier is the CEO and co-founder of Holberton, a revolutionary new type of software engineering school that has no teachers, no lectures, and no up-front tuition. His innovative educational model is supported by tech leaders Jeff Weiner (executive chairman at LinkedIn), Jerry Yang (founder of Yahoo!), Solomon Hykes (founder of Docker), R&B singer Ne-Yo, and actor, producer, and social activist Priyanka Chopra.

Being a father to his five-year-old son and three-year-old daughter has also informed Julien's views on gender equality both in the world and our educational system. Inclusivity and equality are baked into the DNA of Holberton School with a blind admissions process and Income Share Agreements that allow anyone, regardless of financial ability, to attend the school.



Previously, Julien was the head of marketing and community at Docker, arguably one of the fastest-growing products for software developers over the last few years, now heavily used by companies such as Google, Uber, Spotify, Yelp, eBay, PayPal, Microsoft, Amazon, and IBM. His innovative community approach is one of the key factors that led the company from a zero to more than a $1 billion valuation.



Julien was listed on Vanity Fair's Future Innovator Index 2018 and was the winner of the EdTech Leadership Award 2017 for School Leader. You can connect with Julien on Twitter: @julienbarbier42.

Magnus Penker is an internationally renowned thought leader on innovation, digitization, and business transformation. He has spoken at prestigious global forums and events, including the Global Peter Drucker Forum, top-ranked international business schools, a variety of associations, and some of the world's largest companies. Mr. Penker is also the author of the book series The Complete Guide to Business Innovation, used by top universities all over the world.

Steve Ferreira is the man you go to when there's money to be made. In the two decades since the onset of his solopreneur career, Steve has recouped over $50M in lost revenue for his clients by pinpointing some of the largest, undetected billing errors in ocean freight shipping. His thirty six years in the industry have equipped him to become a global logistics guru, positioning him as one of the most highly sought-after ocean freight analysts in the world.

His unique approach to ocean freight invoicing has garnered worldwide attention and put him in the media spotlight with CNBC, Forbes, and USA Today. Perhaps even more impressive, Steve's company, Ocean Audit, has assisted 17 of the world's Fortune 100 Companies including the likes of Nike, General Motors and Dow Chemical. Today, Steve can be seen hosting FreightWaves TV's "Navigate B2B", a nationally televised show that serves as an ongoing effort to help others develop their own B2B business personas. Steve continues to help coach entrepreneurs worldwide, as he remains dedicated to changing lives, one client at a time.