Conquer Anxiety Workbook for Teens: Find Peace from Worry, Panic, Fear, and Phobias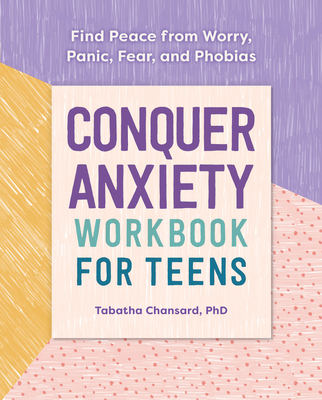 Conquer Anxiety Workbook for Teens: Find Peace from Worry, Panic, Fear, and Phobias
Out of Stock In Store
Conquer anxiety and calm your body and mind—a workbook for teens ages 13 and up

Anxiety is a difficult emotion to manage, and the added stressors of teenage life can make it feel impossible to overcome. But you have the power to handle it—you just need the right tools. Unlock your ability to conquer anxiety with this therapeutic workbook. The exercises teach you practical, effective techniques to tackle worrying in the moment—so it doesn't ruin your day and run your life.

You'll find out how to identify the types of anxiety you're experiencing—general anxiety, social anxiety, panic attacks, or phobias. Using strategies from cognitive behavioral therapy and mindfulness practices, you'll learn how to manage your thoughts, emotions, and behaviors. With helpful examples of real scenarios teenagers face at school, home, or with friends, this book is your secret weapon against anxiety in any situation.

The Conquer Anxiety Workbook for Teens lets you:

Soothe your mind—Learn how anxiety plays tricks on your mind, and find out how to be more realistic and confident while correcting "thinking errors" and old beliefs.
Understand your body—Discover immediate calming strategies like body scanning, taking charge of your anxious alter-ego, creating a self-care routine, and more.
Write in the book—This workbook has lined space to invite you to answer questions, try thoughtful exercises, and take quizzes right on the page.
Release stress and worry while you nurture your mental health with the
Conquer Anxiety Workbook for Teens.
DR. TABATHA CHANSARD is a licensed clinical psychologist who specializes in Cognitive Behavioral Therapy for a variety of emotional and behavioral difficulties. She treats childhood disorders and is passionate about her work kids, adolescents and young adults. Dr. Chansard resides in Dallas with her husband and baby girl. She enjoys binge-watching a good Netflix series, basking in the warm Texas sun, and spending quality time with friends and family.