The Cartoon Introduction to Climate Change, Revised Edition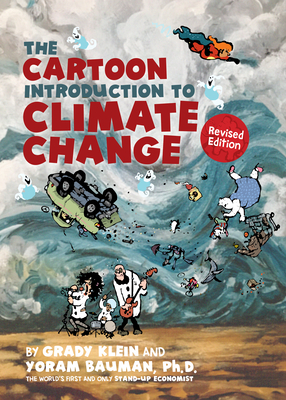 The Cartoon Introduction to Climate Change, Revised Edition
Likely On Our Shelves
When The Cartoon Introduction to Climate Change was first published in 2014, it offered something entirely new: a fun, illustrated guide to a planetary crisis. If that sounds like an oxymoron, you've never seen the carbon cycle demonstrated through yoga poses or a polar bear explaining evolution to her cubs.
 
That creativity comes from the minds of Yoram Bauman, the world's first and only "stand-up economist," and award-winning illustrator Grady Klein. After seeing their book used in classrooms and the halls of Congress alike, the pair has teamed up again to fully update the guide with the latest scientific data from the IPCC (Intergovernmental Panel on Climate Change).
 
A lot has happened to the climate over the last decade, and the authors tackle the daunting statistics with their trademark humor. They realize it's better to laugh than cry when confronting mind-blowing facts about our changing world. Readers will become familiar with critical concepts, but they'll also smile as they learn about climate science, projections, and policy.
 
Sociologists have argued that we don't address climate change because it's too big and frightening to get our heads around. The Cartoon Introduction to Climate Change takes the intimidation and gloom out of one of the most important challenges of our time.


 
Yoram Bauman, "the world's first and only stand-up economist," performs regularly at colleges and corporate events, sharing the stage with everyone from Robin Williams to Paul Krugman. He has appeared in TIME Magazine and on PBS and NPR, and is the co-author of the Carton Introduction to Climate Change and the two-volume Cartoon Introduction to Economics, which is now available in Chinese, German, Italian, etc. He is also the organizer of the humor session at the annual meeting of the American Economic Association.
Yoram lives in Seattle, where he founded Non-Profit Comedy, a series of benefit shows that has raised almost $100,000 for local non-profits. He has a BA in mathematics from Reed Colleague and a PhD in economics from the University of Washington. He is a fellow at Sightline Institute in Seattle, and in 2011 he spent five months in Beijing as a visiting scholar at the University of International Business and Economics. His website is www.standupeconomist.com.