A Joyful Christmas: 6 Historical Stories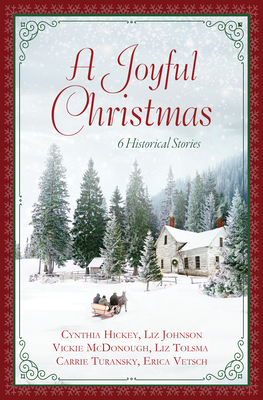 A Joyful Christmas: 6 Historical Stories
A Christmas Collection to Warm the Heart
Grab a warm cup of tea and watch as romance is kindled and joy is restored to broken lives during six bygone era Christmas celebrations.
 
A Christmas Castle by Cynthia Hickey
Married by proxy in Missouri, Annie Morgan sets off for Tombstone, Arizona, to join her new husband as a cattle rancher. But too soon she finds herself a widow with an unexpected daughter and butting heads with her handsome neighbor.
 
A Star in the Night by Liz Johnson
Wounded within Confederate territory, Union officer Jedediah Harrington finds refuge at the tiny cabin of Cora Sinclair and her grandfather. Still haunted by what she saw as a battlefield hospital volunteer, Cora finds that only Jed can understand. But, though she longs to give him her heart, the risks to both of them are too great.
 
An Irish Bride for Christmas by Vickie McDonough
When Jackson Lancaster's brother and wife die, he takes his three-year-old niece home. But a meddling busy-body makes the judge give her custody "because an unmarried man shouldn't raise a little girl." Now Jackson has until Christmas to find a bride or lose his niece forever. Larkin Doyle is grateful her employer took in the orphan and believes Jackson abandoned his niece. When her heart says otherwise, will romance blossom? 
 
Under His Wings by Liz Tolsma
Adie O'Connell, orphaned and left alone in a dangerous Wisconsin logging camp, seeks the stability she once knew when both her parents lived. Despite the compassion and friendship offered by Noah "Preacher Man" Mitchell, she refuses to consider marriage to a man always drifting from one job to another for God.
 
Shelter in the Storm by Carrie Turansky
The daughter of a wealthy Tennessee doctor, Rachel Thornton begins nursing James Galloway, a wounded artist-war correspondent. As James recovers, their hearts draw closer together. Having already lost one sweetheart to the war, Rachel is hesitant to reveal her feelings for James, who insists on returning to the front lines. Would she be safer in the arms of another man?
 
Christmas Service by Erica Vetsch
Beth Sorensen has been put in charge of the Christmas pageant at the little log church, and this year she wants something different. But she didn't count on a Minnesota blizzard paralyzing the whole town. Can the blacksmith teach this preacher's daughter about what it means to serve one another in love through the storm?
 
Cynthia Hickey grew up in a family of storytellers and moved around the country a lot as an army brat. Her desire is to write about real, but flawed characters in a wholesome way that her seven children and nine grandchildren can all be proud of. She and her husband live in Arizona where Cynthia is a full-time writer.
Liz Johnson holds a degree in public relations from Northern Arizona University, in Flagstaff, and works as a full-time marketing specialist for a major Christian publisher in Nashville, TN.
Vickie McDonough is an award-winning author of nearly 50 published books and novellas, with over 1.5 million copies sold. A bestselling author, Vickie grew up wanting to marry a rancher, but instead, she married a computer geek who is scared of horses. She now lives out her dreams penning romance stories about ranchers, cowboys, lawmen, and others living in the Old West. Her novels include End of the Trail, winner of the OWFI 2013 Booksellers Best Fiction Novel Award. Whispers on the Prairie was a Romantic Times Recommended Inspirational Book for July 2013. Song of the Prairie won the 2015 Inspirational Readers' Choice Award. Gabriel's Atonement, book 1 in the Land Rush Dreams series, placed second in the 2016 Will Rogers Medallion Award. Vickie has recently stepped into independent publishing.
Vickie has been married over forty years to Robert. They have four grown sons, one daughter-in-law, and a precocious granddaughter. When she's not writing, Vickie enjoys reading, doing stained glass, watching movies, and traveling. To learn more about Vickie's books or to sign up for her newsletter, visit her website at www.vickiemcdonough.com.
 
Liz Tolsma is a popular speaker and an editor and the owner of the Write Direction Editing. An almost-native Wisconsinite, she resides in a quiet corner of the state with her husband and is the mother of three. Her son proudly serves as a U.S. Marine. They adopted all of their children internationally, and one has special needs. When she gets a few spare minutes, she enjoys reading, relaxing on the front porch, walking, working in her large perennial garden, and camping with her family.
 
Erica Vetsch is a transplanted Kansan now residing in Minnesota. She loves books and history, and is blessed to be able to combine the two by writing historical romances. Whenever she's not following flights of fancy in her fictional world, she's the company bookkeeper for the family lumber business, mother of two, an avid museum patron, and wife to a man who is her total opposite and soul mate. Erica loves to hear from readers. You can sign up for her quarterly newsletter at www.ericavetsch.com

You can email her at ericavetsch@gmail.com or contact her on her author Facebook page.