A Violent Gospel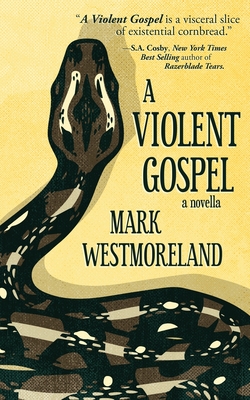 If there's a bad idea in Tugalo County, chances are that Mack and Marshall Dooley are behind it. When the brothers heist a snake-handling church's money-laundering operation, things go south in a hurry.
This part of the north Georgia hills ain't much, just hardscrabble folks trying to get by. It's the perfect place to wash a load of cash -- and an even better place to make your enemies disappear. When Mack goes missing, Marshall cuts a deal with a local crime boss to rescue his brother. Navigating a storm of wild women and a literal nest of vipers, the Dooleys can't trust anyone other than themselves to get out of the mess they've made. Praise for A VIOLENT GOSPEL: "Let me be the first to sing
A Violent Gospel
's praises. Mark Westmoreland's debut is the literary equivalent of
The Dukes of Hazzard
driving onto the set of Elmore Leonard's
Justified
. This book is filled with folks who know right from wrong but don't like boring." -David Tromblay, author of
As You Were
and
Sangre Road
"Mark Westmoreland's
A Violent Gospel
is a down-n-dirty, rough-n-tumble romp where no punches are pulled, and Old Testament justice is the law of the land." -Steph Post, author of
Lightwood
and
Miraculum
"In
A Violent Gospel
Mark Westmoreland stakes his claim as a powerful voice in the Neo-Southern Gothic Movement. Equal parts Flannery O'Connor, Harry Crews with a smidge of Gator era Burt Reynolds,
A Violent Gospel
is a visceral slice of existential cornbread." -S.A. Cosby, author of
Razorblade Tears
and
Blacktop Wasteland
"This book is rural crime fiction at its best. A bullet read that gets right down to the dark and dirty point. Westmoreland's ability to play in the gray area between darkness and light is spot on word candy that is perfectly suited to the title of
A Violent Gospel
. Look out for this guy. He's going to listed with Daniel Woodrell and Tom Franklin in no time." -Brian Panowich, author of
Hard Cash Valley
and
Bull Mountain
"
A Violent Gospel
is one rollicking old testament ass whoopin' of a debut. Westmoreland is an exciting new voice in southern noir, delivering 100 Proof Hellbilly Pulp and I can't wait for more." -Peter Farris, author of
Last Call for the Living
and
Clay Eaters
ISBN: 9781643961941
ISBN-10: 9781643961941
Publisher: Shotgun Honey
Publication Date: 09/24/2021 - 12:00am
On Sale: 09/24/2021 - 12:00am
Pages: 154
Language: English
Categories