Niña morena sueña / Brown Girl Dreaming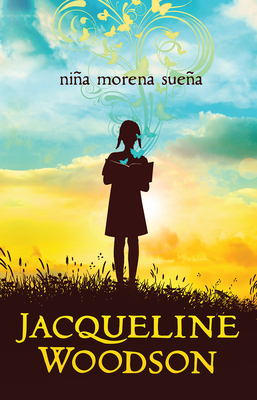 Niña morena sueña / Brown Girl Dreaming
Entre los 100 mejores libros juveniles de todos los tiempos de acuerdo con TIMES 2020
Ganador del Premio Nacional del Libro
Ganador del Premio Coretta Scott King
Newbery Honor Book
Robert F. Sibert Informational Honor Book
 
¿Qué significa crecer en dos lugares y no pertenecer completamente a ninguno? Jacqueline Woodson creció entre Carolina del Sur y Nueva York y siempre se sintió a medias en ambos. Estos poemas, conmovedores y poderosos, lo reflejan; así como reflejan la experiencia de ser una niña afroamericana en las décadas de 1960 y 1970, de una infancia vivida entre los residuos de las leyes de Jim Crow, de su aprendizaje constante sobre el movimiento de derechos civiles. Cada verso es una mirada al alma de alguien que, desde muy pequeña, busca su lugar en el mundo.

Tal vez lo encontró en su propia voz al escribir. La elocuente poesía de Woodson es también una celebración de la escritura pues, a pesar de que tuvo dificultades con la lectura cuando era niña, su amor por las historias inspiró las primeras chispas de la talentosa escritora que es hoy. Este libro es resultado de eso. Es el universo de una niña morena que, contra todo y contra todos, se atrevió a soñar.
 
ENGLISH DESCRIPTION

TIMES 2020 100 Best YA of All Times

Jacqueline Woodson's National Book Award and Newbery Honor winner, now available in Spanish

Raised in South Carolina and New York, Woodson always felt halfway home in each place. In vivid poems, she shares what it was like to grow up as an African American in the 1960s and 1970s, living with the remnants of Jim Crow and her growing awareness of the Civil Rights movement. Touching and powerful, each poem is both accessible and emotionally charged, each line a glimpse into a child's soul as she searches for her place in the world. Woodson's eloquent poetry also reflects the joy of finding her voice through writing stories, despite the fact that she struggled with reading as a child. Her love of stories inspired her and stayed with her, creating the first sparks of the gifted writer she was to become.
Jacqueline Woodson es una renombrada y premiada autora de libros para jóvenes. Creció y estudió entre Greenville, Carolina del Sur y Brooklyn, Nueva York. Woodson se graduó de la universidad con una licenciatura en Lengua Inglesa y luego trabajó en la ciudad de Nueva York como terapeuta teatral para niños sin hogar. Ahora se dedica a escribir a tiempo completo en Brooklyn.

Woodson ha recibido numerosos honores y premios por sus obras. Recibió el premio Margaret A. Edwards por su trayectoria en la escritura para jóvenes, el premio St. Katharine Drexel, el premio Anne V. Zarrow de literatura para jóvenes y el premio Hans Christian Andersen.

ENGLISH DESCRIPTION

Jacqueline Woodson is an award-winning author of young adult books. Raised and educated in Greenville, South Carolina, and Brooklyn, New York, Woodson graduated from college with a B.A. in English, and then worked in New York City as a drama therapist for runaways and homeless children. She now writes full-time in Brooklyn.

Woodson has received numerous honors and awards for her many books. She was given the Margaret A. Edwards Award for lifetime achievement in writing for young adults, the St. Katharine Drexel Award, the Anne V. Zarrow Award for Young Readers' Literature and the Hans Christian Anderson Award.