Steam Project-Based Learning, Grade 4 Teacher Resource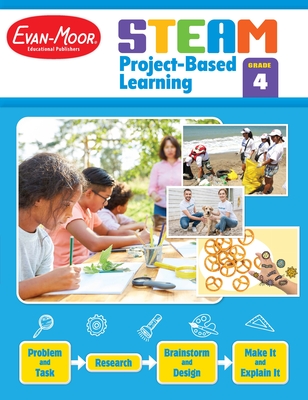 Steam Project-Based Learning, Grade 4 Teacher Resource
Out of Stock In Store
Encourage students to develop collaborative problem-solving skills with STEAM Project-Based Learning
The engaging STEAM tasks provide meaningful learning opportunities for students as they work together to study current real-world problems and strategize solutions to help create a better world.
These complete units include in-depth activities that provide important context for students as they learn about each topic before they develop solutions.
Each robust unit includes a hands-on STEAM task that provides students with a problem to solve using the design process of Problem and Task, Research, Brainstorm and Design, Make It and Explain It.
Additional resources in each unit include:
Teacher Page with a unit overview and implementation suggestions
Real-World Connection that introduces the topic with a fictional story
What Is the Problem? page to help students brainstorm solutions to the issue
Learn About the Problem page that provides detailed information about the problem in the real world.
Art Connection that incorporates creativity into finding solutions
Science, Technology, Engineering, and Math connections that present additional information about how these fields are used to solve problems
Career Spotlight that presents a variety of careers related to the problems or solutions in the unit.
Fourth grade STEAM projects include:
Germs
Bike lanes
Empty mall space
Homeless animals
Food insecurity
Ocean garbage
Access to clean water
STEAM Project-Based Learning is an approach to project-based learning that uses science, technology, engineering, art, and mathematics to engage children in empathizing, thinking critically, and collaborating to develop solutions. Teaching children how to think creatively prepares them for new unknown technologies, industries, and careers. With STEAM activities and tasks, the final product is not as important as the process. Through the process of experimenting and exploring, students are using creative and critical thinking skills. Scientists, mathematicians, engineers, and artists use the same critical thinking skills to find new and innovative solutions.
Each book includes a STEAM puzzle and a completion certificate
This resource contains teacher support pages, reproducible student pages, and an answer key. This is a reproducible resource (photocopying of lessons is permitted) for single classroom or individual home use only.
About Evan-Moor
A leader in PreK-8 educational publishing, Evan-Moor has been a trusted partner of teachers and parents for over 40 years. Our mission is helping children learn, and we do this by creating resources that motivate children to learn important skills and concepts across the curriculum while also inspiring a love of learning.
Evan-Moor has been providing high-quality, creative, and engaging PreK-8 educational resources for teachers and parents since 1979. Our mission is helping children learn, and we do this by providing teachers and parents with the resources they need to cultivate a love of teaching and learning. Our award-winning content is created by highly experienced educators and is aligned with the most current standards and best educational practices. Evan-Moor's supplemental resources are available across the curriculum, covering math, reading, language, spelling, writing, vocabulary, science, STEM, beginning coding, social studies, SEL, and art. Many resources can be used for formative assessments and test preparation and to nurture students' critical and creative thinking skills.
ISBN: 9781645141907
ISBN-10: 9781645141907
Publisher: Evan Moor Educational Publishers
Publication Date: 01/01/2022 - 12:00am
On Sale: 06/21/2022 - 12:00am
Pages: 128
Language: English
Categories
Decision Making & Problem Solving