Dino-Mite Halloween: Colortivity with Big Crayons and Stickers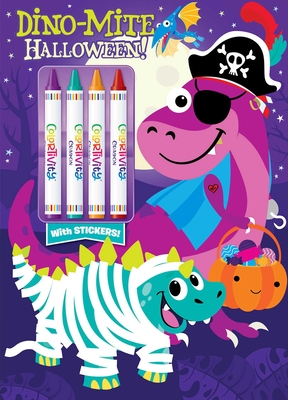 Dino-Mite Halloween: Colortivity with Big Crayons and Stickers
Pre-Order (Not Yet Published)
Have tons of Halloween fun with Dino-Mite Halloween! Kids can color in dinosaurs and complete other Halloween-themed activities using the 4 included big crayons! There's also a sheet of 40 stickers for extra fun!

This paperback coloring and activity book comes with 4 big crayons and a sheet of stickers (40 stickers in all), and it combines two things kids love: dinosaurs and Halloween! With 48 pages of silly, costumed dinos and activities such as matching games, word search puzzles, spot the difference, and more, it's the perfect book for the season of tricks and treats. And for extra fun, a sheet of Halloween-themed stickers is included, and the back cover has a puzzle to cut out! Perforated pages make it easy for kids to tear out and display their masterpieces.
The dream-and-activity team at Dreamtivity encourages artistic play, creative crafting, and engaged listening with words and pictures that delight...to get kids thinking and doing. Grab some crayons. Curl up with a story. Let your imagination take flight. Now, go color your world!

John Jordan has been delighting kids with his illustrations for more than 40 years. From cute animal characters to his own action-packed Titan comic book series, John's art appeals to a broad audience. John has done work for many top-tiered businesses, publishers, and licenses. He is perhaps best known for his hundreds of kid-friendly coloring books—proven best sellers year after year. John, his wife, Barbara, and their four cats live in the Nashville area, enjoying any time they can get with their 13 grandkids.