The Magical Girl's Guide to Life: Find Your Inner Power, Fight Everyday Evil, and Save the Day with Self-Care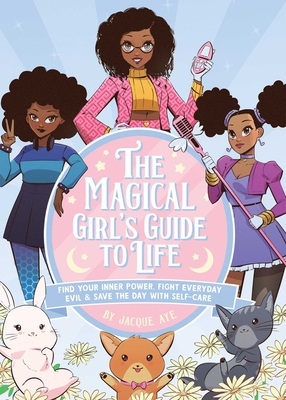 The Magical Girl's Guide to Life: Find Your Inner Power, Fight Everyday Evil, and Save the Day with Self-Care
Out of Stock In Store
Transform into your most magical self with this one-of-a-kind, manga inspired self-care guide designed to help you discover and harness your inner power- anime style!

Inspired by the wand-wielding, crime-fighting magical girls in your favorite animes and mangas, The Magical Girl's Guide to Life teaches you how your self-care journey starts by uncovering the magical girl within.

With fun exercises, journal prompts, and personality tests, you'll quickly learn everything you need to know about your magical girl self, including your magical girl name, what type of power you possess, and what cute companion will perfectly complement your magical girl journey. Once your magical girl identity is locked in, you'll learn how to take on the world and continue your self-growth by:

Discovering your magical girl gang
Punching fear in the face/defining your monster
Developing your magical girl beauty routine
Finding love after fighting crime
And more!
With gorgeous illustrations and entertaining animated characters,
The Magical Girl's Guide to Life
reveals how self-love, sisterhood, and magic go together. Perfect for fans of anime and manga like
Sailor Moon
,
Cardcaptor Sakura
, and more!
Jacque Aye is the CEO of Chigami Studios and "Head Magical Girl" of the Adorned by Chi lifestyle brand! Since launching Adorned by Chi in 2015 Jacque has grown her business tremendously, racking in 6-figure sales within the first two years of operation and a development deal within the first five!

Adorned by Chi has also worked with the likes of Sanrio, collaborating on a collection for their Small Business, Big Smile initiative. As a leader in the manga and anime space, Jacque has grown her small tight knit community into one that boasts over 100,000 magical beings across social media.

Jacque is a vocal supporter of mental health awareness and self care amongst Black women, and advocates for those suffering from social anxiety. In 2020, Adorned by Chi was able to donate $20,000 to the Loveland Foundation.