Elatsoe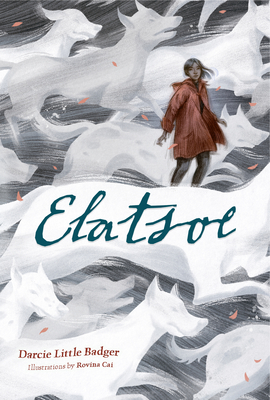 Elatsoe
Likely On Our Shelves
Locus Award Winner—Best First Novel

A National Indie Bestseller

Nebula Award Finalist

Lodestar Award Finalist

Ignyte Award Finalist

TIME's Best 100 Fantasy Books of All Time

NPR Best of the Year

Booklist's Top 10 First Novels for Youth

A BookPage Best of the Year

Chicago Public Library "Best of the Best"

PNBA Bestseller

Publishers Weekly Best of the Year

Buzzfeed's Best YA SFF of the Year

Shelf-Awareness Best of the Year

AICL Best YA of the Year

NECBA Windows & Mirrors Selection

NEIBA Award Finalist

Tor Best of the Year

Kirkus Best YA of the Year

Publishers Weekly Flying Start

American Indian Youth Literature Award Finalist

"Groundbreaking."—TIME

"Deeply enjoyable from start to finish."—NPR

"Utterly magical."—SyFyWire

"Atmospheric and lyrical...a gorgeous work of art."—BuzzFeed

"One of the best YA debuts of 2020. Read it."—Marieke Nijkamp

★ "A fresh voice and perspective."—Booklist, starred review

★ "A unique and powerful Native American voice."—BookPage, starred review

★ "A brilliant, engaging debut."—Kirkus Reviews, starred review

★ "A fast-paced murder mystery."—Publishers Weekly, starred review

★ "A Lipan Apache Sookie Stackhouse for the teen set."—Shelf-Awareness, starred review

A Texas teen comes face-to-face with a cousin's ghost and vows to unmask the murderer.

Elatsoe—Ellie for short—lives in an alternate contemporary America shaped by the ancestral magics and knowledge of its Indigenous and immigrant groups. She can raise the spirits of dead animals—most importantly, her ghost dog Kirby. When her beloved cousin dies, all signs point to a car crash, but his ghost tells her otherwise: He was murdered.

Who killed him and how did he die? With the help of her family, her best friend Jay, and the memory great, great, great, great, great, great grandmother, Elatsoe, must track down the killer and unravel the mystery of this creepy town and it's dark past. But will the nefarious townsfolk and a mysterious Doctor stop her before she gets started?

A breathtaking debut novel featuring an asexual, Apache teen protagonist, Elatsoe combines mystery, horror, noir, ancestral knowledge, haunting illustrations, fantasy elements, and is one of the most-talked about debuts of the year.
Darcie Little Badger is an Earth scientist, writer, and fan of the weird, beautiful, and haunting. She is an enrolled member of the Lipan Apache Tribe of Texas. Her Locus Award-winning debut novel, Elatsoe, was a National Indie Bestseller, named to over a dozen best-of-year lists, and called one of the Best 100 Fantasy Novels of All Time by TIME. Her second novel, A Snake Falls to Earth was longlisted for the National Book Award for Young People's Literature and received a Newbery Award Honor.

Rovina Cai is a freelance illustrator based in Melbourne, Australia. She works out of an old convent building that is possibly haunted. Her work has been recognized by the Society of Illustrators and the Children's Book Council of Australia. Recently she has illustrated books by Patrick Ness and Margo Lanagan. Instagram @rovinacai
by Sara
Thu, 04/22/2021 - 4:36pm
In a world like ours (cars, internet, vampires, fairy-ring teleportation), Ellie has inherited the ability to summon ghosts from her Lipan Apache ancestors. When Ellie's cousin asks her to solve his murder, she uncovers truths much stranger - and more dangerous - than she could have anticipated.