STEM Baby: Engineering: (STEM Books for Babies, Tinker and Maker Books for Babies)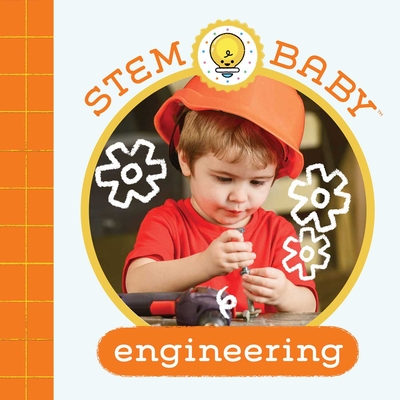 STEM Baby: Engineering: (STEM Books for Babies, Tinker and Maker Books for Babies)
Likely On Our Shelves
Babies will love to look at babies demonstrating natural proficiency in STEM (Science, Technology, Engineering, and Math) skills in this adorable board book series!

Babies and toddlers are natural-born scientists. Whether rolling a ball down a slope, stacking blocks and knocking them over, placing toys in a container, group and matching objects into categories, stacking rings according to size, stringing large beads, or throwing their stuffies, STEM Babies are always experimenting with something new. This adorable board book introduces little scientists to the foundations of engineering and encourages young ones to play and be curious about the world around them.

With full-color photographs of babies and toddlers playing, discovering, and inventing, STEM Baby: Engineering encourages curious young scientists and their parents to tinker and explore the world like an engineer!

CELEBRATE STEM SKILLS: Showcases babies' and toddlers' natural curiosity and age-level proficiency at engineering skills like building and drawing!

BABIES LOVE TO LOOK AT BABIES: Filled with adorable full-color photos of babies engaging in fun, familiar STEM activities!

STURDY BOARD BOOK: Will stand up to years of reading, looking, laughing and page turning (and even chewing) at home or on the go!

COLLECT THEM ALL: Complete the series with STEM BABY: Science, STEM BABY: Math, and STEM BABY: Technology.
DANA GOLDBERG is a Bay Area–based writer and editor who published award-winning multicultural and bilingual picture books as Executive Editor of Children's Book Press from 2005–2011. Since then, she's been a resident wordsmith at the SFMOMA and the Exploratorium, a hands-on museum of science, art, and human perception. She co-authored The Art of Curiosity: 50 Visionary Artists, Scientists, Poets, Makers, & Dreamers Who Are Changing the Way We See Our World (Weldon Owen, 2019).

TERESA BONADDIO is a graphic designer at the Delaware Museum of Natural History. Her roots are both in the museum world, as well as traditional children's book publishing. She founded SparkerLit Studio in 2018, where she is an illustrator-designer, making stories and goods for kids and kids-at-heart. She earned a BFA in Printmaking/Book Arts from UArts in Philadelphia and a Post-Baccalaureate degree in Graphic Design from MICA in Baltimore.