Ancient Asian History: A Captivating Guide to the Ancient Civilizations of China and Japan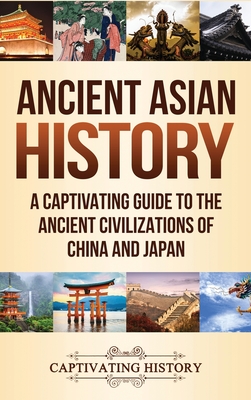 Ancient Asian History: A Captivating Guide to the Ancient Civilizations of China and Japan
Out of Stock In Store (Available to Order)
If you want to discover the captivating history of ancient Asia, then keep reading...
Two captivating manuscripts in one book:
Ancient China: A Captivating Guide to the Ancient History of China and the Chinese Civilization Starting from the Shang Dynasty to the Fall of the Han Dynasty
Ancient Japan: A Captivating Guide to the Ancient History of Japan, Their Ancient Civilization, and Japanese Culture, Including Stories of the Samurai, Shōguns, and Zen Masters
To understand present-day China, its politics, society, and culture in general, we have to go back to the beginnings of the Chinese civilization.
In the first part of this book, you will be led on a journey through almost 2,000 years of Chinese history, showing you all the ups and downs of those ancient times, the sufferings and joys of the Chinese people, along with their greatest achievements and failures.
Dynasties will change, people will be killed and born, art made and destroyed, but the Chinese civilization will prevail, rising from humble beginnings to an empire that at some points outshined any other in the world at that time. And yet it won't be only a tale of kings and queens, emperors and rulers. Of palaces and forts, of swords and shields.
It will also tell a story of farmers and merchants, artisans and artists, philosophers and scientists. And hopefully by the end of this introductory guide, you will gain a sense of what, who, and how the Chinese civilization was made as great as it was and still is.
From that, a better understanding of this amazing Far Eastern culture and its history should arise as well as a greater appreciation of its achievements and contributions to the world. And with a better knowledge of history, a clearer understanding of the world will come as well.
In part 2 of this book, you ll learn all about ancient Japan. The Japanese progressed throughout the eras because of the emperor, but they also progressed despite him. These are people who never let go of their sacred history, and their story is told and retold in art, film, literature, and even graphic novels across the entire world. Terms such as shoguns, samurai, haiku, anime, and manga are familiar to many in the Western world today. Westerners also learn flower arranging, martial arts, meditation, and enjoy a variety of visual and digital art forms because of the unique culture of Japan.
Here are just some of the topics covered in part 1 of this book:
Chinese Lands and Birth of China
Shang and Zhou Dynasties and the Rise of Royal Power
Disintegration of Royal Power
Birth of Imperial China
Rise and Fall of the Han Dynasty
The Ancient Chinese Culture
Inventions, and Innovations of the Ancient Chinese
And much, much more
Here are just some of the topics covered in part 2 of this book:
Origins of Imperial Japan and Its People
Birth of Imperial Japan and Its Culture
History of Classical Japan
Early Medieval Japan
Late Medieval Japan
Japanese Society
Warriors of Ancient Japan
Religious Life in Japan
Japanese Culture
And much, much more
So, if you want to learn more about ancient Asia scroll up and click the "add to cart" button
ISBN: 9781647487218
ISBN-10: 9781647487218
Publisher: Captivating History
Publication Date: 05/30/2020 - 12:00am
On Sale: 05/30/2020 - 12:00am
Pages: 250
Language: English
Categories