Letters To My Baby In Heaven: A Diary Of All The Things I Wish I Could Say Newborn Memories Grief Journal Loss of a Baby Sorrowful Season Forever In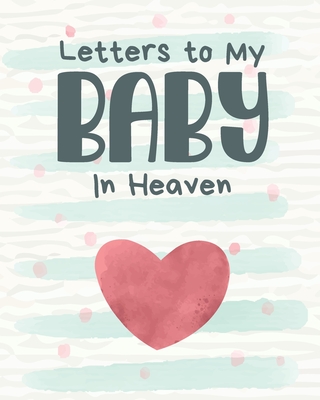 Letters To My Baby In Heaven: A Diary Of All The Things I Wish I Could Say Newborn Memories Grief Journal Loss of a Baby Sorrowful Season Forever In
Out of Stock In Store
Letters To My Baby In Heaven
8 X 0 Inches 120 Pages
Experiencing the loss of a baby is one of the worst things that can happen to a parent. You go from planning out an entire future around this tiny little wonder too feeling like the world has been pulled out from under you.
"I still mourn, and still have incredibly difficult days, the type that render me unable to get out of bed."
How can the world go on when MY life has stopped ?
Journals and diaries can help in the grieving and healing process whenever your precious little baby has left this world behind.
How to Use this Letters To My Baby In Heaven Diary:
The purpose of this Letters to My Baby is to keep all your various heart feels and thoughts organized in one easy to find spot. Here are some simple guidelines to follow so you can make the most of using this book:
The first "Dear Baby I Found Out About You" section is for you to write out the date you found out about your baby on the way, how you felt..so you can go back there to be reminded of your journey... .
Most ideas are inspired by something we have seen. Use the "How You Left Us" section to write down all the things you remember about that day..
The "My First Impressions of You Were" section is for you to write out all the things you loved about your baby, first thoughts, your journey...
And even more pages with the "What I Wanted You To Know About Me" section is great for writing out what you wanted your baby to know about you....as a mom, a dad, grandparent or any member of the family....
The "When I Meet You In Heaven We Will" section is for you to keep a visual reminder of each dream you have for things and plans you have when you are reunited in heaven...
The "Your First Home Was Like This" section is for you to describe to your baby what his/her home was like, describe the fun places to play, toys to play with, any siblings looking forward to the baby's arrival so your heart feels understood..
The "My Favorite Pregnant Story Of You Is" section is for you to write all favorite stories to baby about things that happened while pregnant, favorite cravings, any heart feels especially helpful for remembering later on...
The "Things We Did While You Were Just A Bump" section is for you to write out keepsake memories of the fun-times, events, books read as your baby bump grew..your story, your journey so your heart feels listened to....
Use this "On Your Birthday I Will Honor You By" section as the place to lay out your plan for honoring the baby on this day, a space for notes, how you envision the celebration so that your heart will feel understood...and much more
Whether you're a first time parent or have been at it for a while, you will want to write down all your heart feels in this notebook to look back on and always remember all the things you want to say to your baby in heaven.
This Letters To My Baby In Heaven Log Book can also be a great gift for any grieving parent in this sorrowful season Size is 8 X 10 inches, 120 pages, soft matte finish cover.
Bless
ISBN: 9781649300188
ISBN-10: 9781649300188
Publisher: Patricia Larson
Publication Date: 05/12/2020 - 12:00am
On Sale: 05/12/2020 - 12:00am
Pages: 122
Language: English
Categories
Babysitting, Day Care & Child Care