Jo Peters Mysteries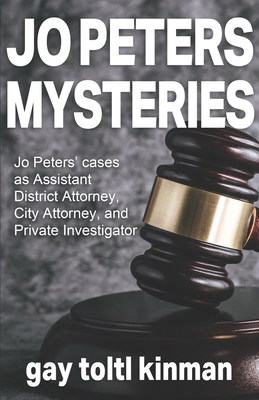 Jo Peters Mysteries
Out of Stock In Store (Click to Order)
This item may not be available to order. Please call 617-566-6660 for more information.
This book starts off with an article explaining how Jo (Joslyn) Peters came to be, and contains all of Jo's cases, sequentially, in the form of short stories, a play, and the beginning chapters of two books. Jo began life as a Los Angeles County Assistant District Attorney. After ten years, she burned out-too much violence, too many deaths-and then too many death threats. The latter became so bad that she was issued a gun and learned how to shoot. But that's not the life she wanted. She moved on to a prodigious corporate law firm in Century City-only to find out they wanted her to handle two criminal cases for lucrative clients. Her career there was short-lived, but deadly for another new hire.To heal herself, Jo came home-took a job as a part-time City Attorney for the town she grew up in. City Attorneys handle only civil cases, not criminal ones. In Death in a Small Town, a novel, Jo tries to prove that a friend did not commit suicide, and finds she still loves investigative work. In the second novel, Upclose and Personal, a friend says someone is trying to kill her and wants Jo to find out who wants her dead. This starts Jo on the path to becoming a P. I.Welcome to Jo Peters' world.
ISBN: 9781656274809
ISBN-10: 9781656274809
Publisher: Independently Published
Publication Date: 01/06/2020 - 12:00am
On Sale: 01/06/2020 - 12:00am
Pages: 170
Language: English
Categories