Relics (Harker Chronicles)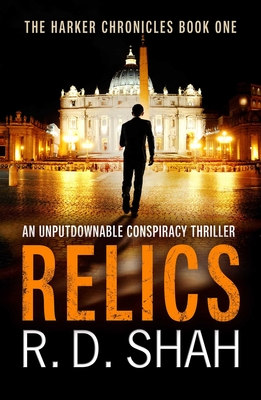 Relics (Harker Chronicles)
When a Catholic priest hangs himself at the Pope's inauguration, his friend, Professor Alex Harker, is dragged into a secret war.

A priest's suicide sets into motion a timetable of terrifying events that will alter the world as we know it. Professor Alex Harker finds himself in an epic battle—one that has been playing out on the fringes of society since the birth of Christ. It threatens to reveal a truth so shocking that it could transform mankind's destiny forever. But to find the truth, one must first uncover the lies...
R. D. Shah spent his formative years in the northwest of England before attending Rugby School in Warwickshire. He attended the University of Miami where he studied motion picture and psychology before returning to the UK to work in television and leisure. R.D. holds a scuba diving license, which he gained along the shores of the Hawaiian island of Kauai. All of this experience has prepared him for a career in writing. He lives in Wiltshire with his wife and young daughter.
ISBN: 9781667201276
ISBN-10: 9781667201276
Publisher: Canelo US
Publication Date: 06/28/2022 - 12:00am
On Sale: 06/28/2022 - 12:00am
Pages: 384
Language: English
Categories
Fiction / Thrillers / Suspense