Family Recipes:: A Novel about Italian Culture, Catholic Guilt and the Culinary Crime of the Century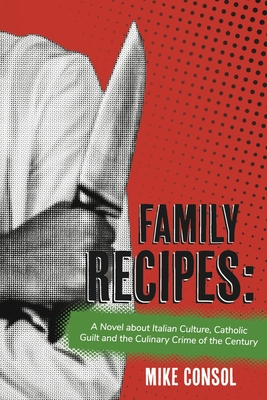 Family Recipes:: A Novel about Italian Culture, Catholic Guilt and the Culinary Crime of the Century
Out of Stock In Store
"Family Recipes" is the story of Vinny Marciano — owner of the most fabulously successful Italian restaurant in all of Upstate New York — and his neurotic family members, all of whom he employs in the business. Marciano's Mangia House was bequeathed to Vinny by his beloved uncle, Nunzio Marciano, who opened the Mangia House in 1946 and quickly turned it into a culinary landmark. But the handoff came with some inviolable stipulations, the most important of which was that Vinny pledge to never let the secret family recipes fall into an outsider's hands.

All is pretty much hunky dory until the safe in the restaurant's business office is breached and the Marciano family's heirloom recipes — dating back generations to the Abruzzo province of Italy — are stolen. Stunned and livid, Vinny's suspicion immediately falls on family members, with his deepest suspicion targeted on sisters Angie and Maria, who have made evident their ambitions to break away from Vinny's fiefdom and open their own Mangia House in a neighboring community.

Vinny is put on notice that if he doesn't successfully recover the recipes — a dozen laminated sheets of parchment penned many decades ago in the clan's native Italian language — his Uncle Nunzio will wrest back control of the Mangia House. His overriding fear is that his prized possession will then be handed over to another family member, perhaps one or both of the sisters Vinny considers his prime suspects.

Then come the ransom demands from a caller with a breathy female voice that no one recognizes. By this point Vinny has enjoined the assistance of a man named Wes Fitzgerald, a defrocked cop turned private investigator, as well as a sergeant detective named Clyde Jablonsky with the local police department. Fitzgerald has a penchant for violence. Jablonsky becomes sexually involved with the only one of Vinny's three sisters he doesn't consider a suspect.

Vinny's brother (and the story's narrator) Mickey Marciano does what he can to hold his family and his brother's mental state together as an escalating series of events amplify Vinny's sense of doom.

A break in the case finally brings the saga to a shocking conclusion that leaves Vinny believing there might have been family involvement after all, though not of the type he originally suspected.
Mike Consol is a novelist and the host of Novelist Spotlight, a podcast that interviews published fiction writers to gather their insights and writing techniques. In addition to this book, he is author of "Hardwood: A Novel about College Basketball and Other Games Young Men Play." Consol is also editor of Real Assets Adviser magazine. A native of upstate New York, he earned his bachelor's degree in journalism from Arizona State University.
ISBN: 9781667840567
ISBN-10: 9781667840567
Publisher: BookBaby
Publication Date: 07/30/2022 - 12:00am
On Sale: 07/30/2022 - 12:00am
Pages: 306
Language: English
Categories