Realabilities: The Mental Health Edition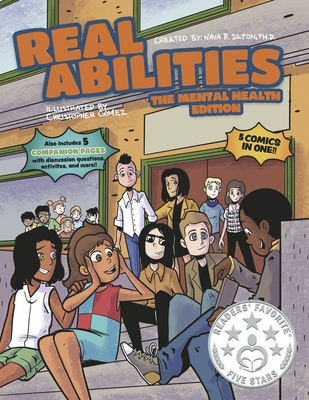 Realabilities: The Mental Health Edition
Out of Stock In Store
The gripping and research-based REALABILITIES: THE MENTAL HEALTH EDITION introduces 11 to 15 year-old readers to high school students who are navigating the triumphs and tribulations of their teenage years. The series introduces a variety of mental health disorders in a sensitive, light and informative fashion. Dr. Nav, the school's dependable and insightful psychologist, offers creative and thought-provoking advice to her students. Equipped with her advice and their own ingenuity, the teens accomplish wonderful, and at times, unexpected feats. The series is an ideal way to teach mental health literacy in an informed and yet, appealing fashion. Each comic is accompanied by a COMPANION PAGE, which offers discussion questions and one or more hands-on activities. These can further extend the lessons and messages of the comic book series both in and outside of the classroom. The series is a sequel to the original award-winning REALABILITIES OMNIBUS, which consists of 12 comics related to disabilities.
Nava R. Silton, Ph.D. is a Developmental Psychologist with a B.S. from Cornell University and an M.A. and Ph.D. from Fordham University. She is a Full Professor at Marymount Manhattan College, where she teaches classes in Child Development, Cognition, Personality, Creativity, Children's Media and has won numerous teaching, research and advising awards. She has worked at Nickelodeon, Sesame Workshop, and Mediakidz, and has consulted for Disney, Netflix, Apple, Blue's Clues & You, 9Story Media Group and The Autism Seaver Center. She also serves as a Developmental Psychologist for Gan Aliya and Manhattan Day School. She appears regularly on Fox 5 News as a Psychological Correspondent, and has appeared on Good Day New York, Good Day Street Talk and NBC. Silton has written over 36 peer-reviewed journal articles, over 20 chapters, book reviews and encyclopedia entries and has edited seven full textbooks. Her first two books discuss innovative technologies for individuals with autism and other disabilities, her third delves into creativity, her fourth into family dynamics and romantic relationships, her fifth explores the constructs of happiness, gratitude, kindness, empathy and well-being, her sixth text discusses best parenting and child development practices for the 21st century and her seventh discusses the impact of COVID-19 on children, adolescents and adults.

Silton also created the The Realabilities Educational Comic Book Series (www.realabilities.com), which offers 18 comics (12 on disabilities and 6 on mental health disorders) and two instructional manuals for use in classrooms across the world. The disabilities-based series, which received The Reader's Favorite Award and was a Page Turner Awardee has now been translated into Hebrew and Spanish and is currently being translated into Chinese and French, as well. Due to the popularity of The Realabilities Educational Series in the schools, Silton created Addy & Uno, The First Family Musical about Disabilities, Bullying and Kindness. Addy & Uno was nominated for an Off-Broadway Alliance Award, ran Off-Broadway for over 18 months at Theatre Row on 42nd Street in Manhattan (www.addyanduno.com) and is now being developed by the Jim Henson Company for TV. In addition, Silton created a Child Development and Parenting Podcast, entitled A Cup of Java with Dr. Nava. She also created Bashert, a brand-new card game which helps individuals connect and forge meaningful relationships with others. Finally, Nava recently penned three feature screenplays, Pure, The Prof and Jackpot. All three screenplays have already achieved significant recognition (Finalist, Semifinalist and Quarterfinalist designations) in over a dozen screenplay contests. Most recently, Silton was identified as one of the Top 50 screenwriters on the ISA Fellowship slate. Silton is married to Dr. Ariel Brandwein and has five children; three boys and two little girls. Christopher Gomez is a cartoonist and illustrator based out of Queens, NY. His work centers around history and arts education. Christopher spends much of his time as a teaching artist for non-profits. He is currently the Arts Program Manager of the Bronx Children's Museum and is working on his first full-length graphic novel. You can see examples of his work at: https://www.behance.net/chrisgomezart and you can contact him at: chrisgomezart@gmail.com.
ISBN: 9781667851518
ISBN-10: 9781667851518
Publisher: BookBaby
Publication Date: 07/28/2022 - 12:00am
On Sale: 07/28/2022 - 12:00am
Pages: 78
Language: English
Categories