Other Worlds: Peasants, Pilgrims, Spirits, Saints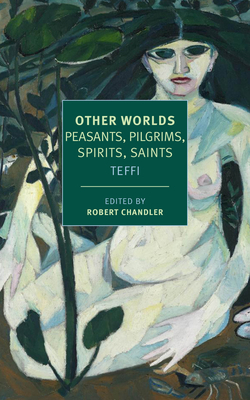 Other Worlds: Peasants, Pilgrims, Spirits, Saints
Out of Stock In Store
Stories about the occult, folk religions, superstition, and spiritual customs in Russia by one of the most essential twentieth-century writers of short fiction and essays.

Though best known for her comic and satirical sketches of pre-Revolutionary Russia, Teffi was a writer of great range and human sympathy. The stories on otherworldly themes in this collection are some of her finest and most profound, displaying the acute psychological sensitivity beneath her characteristic wit and surface brilliance.

Other Worlds presents stories from across the whole of Teffi's long career, from her early days as a literary celebrity in Moscow to her post-Revolutionary years as an émigré in Paris. In the early story "A Quiet Backwater," a laundress gives a long disquisition on the name days of the flora and fauna and on the Feast of the Holy Ghost, a day on which "no one dairnst disturb the earth." The story "Wild Evening" is about the fear of the unknown; "The Kind That Walk," a penetrating study of antisemitism and of xenophobia; and "Baba Yaga," about the archetypal Russian witch and her longing for wildness and freedom. Teffi traces the persistent influence of the ancient Slavic gods in superstitions and customs, and the deep connection of the supernatural to everyday life in the provinces. In "Volya," the autobiographical final story, the power and pain of Baba Yaga is Teffi's own.
Teffi (1872–1952) was a popular writer in pre-Revolutionary Russia, a favorite of Tsar Nicholas II and Lenin alike. She was born to a prominent St. Petersburg family and emigrated from Bolshevik Russia in 1919. Eventually settling in Paris, she became an important figure in the émigré literary scene and lived there until her death. NYRB Classics publishes her memoir, Memories: From Moscow to the Black Sea, and the collection of stories Tolstoy, Rasputin, Others, and Me. 

Robert Chandler and Elizabeth Chandler have translated many NYRB Classics.