A Theory of Birds: Poems (Etel Adnan Poetry Series)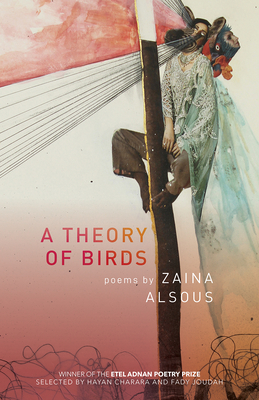 A Theory of Birds: Poems (Etel Adnan Poetry Series)
Out of Stock In Store (Click to Order)
Winner of the 2019 Etel Adnan Poetry Prize

Inside the dodo bird is a forest, Inside the forest
a peach analog, Inside the peach analog a woman, Inside
the woman a lake of funerals
This layering of bird, woman, place, technology, and ceremony, which begins this first full-length collection by Zaina Alsous, mirrors the layering of insights that marks the collection as a whole. The poems in A Theory of Birds draw on inherited memory, historical record, critical theory, alternative geographies, and sharp observation. In them, birds—particularly extinct species—become metaphor for the violences perpetrated on othered bodies under the colonial gaze.
Putting ecological preservation in conversation with Arab racial formation, state vernacular with the chatter of birds, Alsous explores how categorization can be a tool for detachment, domination, and erasure. Stretching their wings toward de-erasure, these poems—their subjects and their logics—refuse to stay put within a single category. This is poetry in support of a decolonized mind.
Zaina Alsous is an abolitionist and a daughter of the Palestinian diaspora.