A Bouquet of Brides Romance Collection: For Seven Bachelors, This Bouquet of Brides Means a Happily Ever After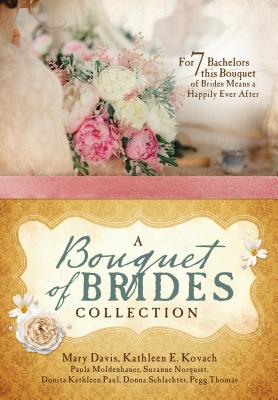 A Bouquet of Brides Romance Collection: For Seven Bachelors, This Bouquet of Brides Means a Happily Ever After
A bouquet of brides is picked for love.
Meet seven American women who were named for various flowers but struggle to bloom where God planted them. Can love help them grow to their full potential?
 
Holly and Ivy by Mary Davis (1890, Washington State)
At Christmastime, Holly Harrison accompanies her impetuous younger sister on her trip across the country to be a mail-order bride. But even as she tries to persuade her sister that loving a stranger is foolhardy, Holly loses her own heart to a fellow traveler.
 
Periwinkle in the Park by Kathleen Kovach (1910, Colorado)
Periwinkle Winfield is a hiking guide helping to commission a national park. But a run-in with a mountain man who is determined to keep the government off his land may place her in great danger.
 
At Home with Daffodils by Paula Moldenhauer (1909, Oklahoma)
When her childhood sweetheart returns to town, will Dilly Douglas accept the worthy heart he offers, or will the old wound he opens keep them apart?
 
A Song for Rose by Suzanne Norquist (1882, Rockledge, Colorado)
Can Patrick O'Donnell, a tenor disillusioned by the performance industry, convince Rose Miller that that there is more to music than her dream of joining an opera company?
 
Beauty in a Tansy? by Donita K. Paul (1918, South Dakota)
Tansy Terrell was named after a weed. When she opens shop next door, Arthur Blake recognizes Tansy's need to be valued as a beautiful flower but fails to see his own worth as a maker of instruments and music.
 
A Prickly Affair by Donna Schlachter (1885, Arizona)
A rough-and-tumble cowgirl, "Cactus" Lil Duncan longs for true love, but is afraid to let down her prickly exterior when a city slicker from New York City, with less-than-honorable intentions, tries to win her heart and her hand.
 
In Sheep's Clothing by Pegg Thomas (1702, Connecticut)
Peter Maltby might be all good looks and charm, working in the new mill fulling wool, but Yarrow Fenn fears he is the Crown's agent in disguise who will destroy the only livelihood she has.
 
MARY DAVIS is an award-winning author of over a dozen novels in both historical and contemporary themes, four novellas, two compilations, and three short stories, as well as being included in various collections. She is a member of American Christian Fiction Writers and is active in two critique groups.

Mary lives in the Colorado Rocky Mountains with her husband of over thirty years and two cats. She has three adult children and one grandchild. She enjoys playing board and card games, rain, and cats. She would enjoy gardening if she didn't have a black thumb. Her hobbies include quilting, porcelain doll making, sewing, crafts, crocheting, and knitting. http://marydavisbooks.com  https://www.facebook.com/mary.davis.73932


Kathleen E. Kovach and her husband Jim raised two sons while living the nomadic lifestyle for over twenty years in the Air Force. She's a grandmother, though much too young for that. Now firmly planted in Colorado, she's a member of American Christian Fiction Writers, and leads a local writers group. Kathleen hopes her readers will giggle through her books while learning the spiritual truths God has placed there.
DONITA KATHLEEN PAUL has given up on retiring. Each time she retires, she finds a new career. This time she married an author from New Mexico and is resurrecting skills as a wife and homemaker. She's delved into romance, fantasy, history, and is toying with time travel. Writing will always be a part of her life. "The more I take time off to allow my body to relax, the more active my brain gets. I'm have way too much fun to stop."
Donna Schlachter
lives in Colorado, where the Wild West still lives. She travels extensively for research, choosing her locations based on local stories told by local people. She is a member of American Christian Fiction Writers and Sisters in Crime, and facilitates a local critique group. One of her favorite activities is planning her next road trip with hubby Patrick along as chauffeur and photographer. Donna has published 12 books under her own name and that of her alter ego, Leeann Betts, and she has ghostwritten five books. You can follow her at www.HiStoryThruTheAges.wordpress.com and on Facebook at www.fb.me/DonnaSchlachterAuthor or Twitter at www.Twitter.com/DonnaSchlachter  
Pegg Thomas lives on a hobby farm in Northern Michigan with Michael, her husband of *mumble* years. A life-long history geek, she writes "History with a Touch of Humor." When not working on her latest novel, Pegg can be found in her garden, in her kitchen, with her sheep, at her spinning wheel, or on her trusty old horse, Trooper. See more at PeggThomas.com.
ISBN: 9781683223818
ISBN-10: 9781683223818
Publisher: Barbour Books
Publication Date: 01/01/2018 - 12:00am
On Sale: 01/01/2018 - 12:00am
Pages: 448
Language: English
Categories