The Grit Workbook for Kids: CBT Skills to Help Kids Cultivate a Growth Mindset and Build Resilience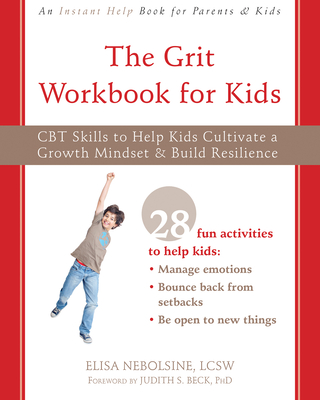 The Grit Workbook for Kids: CBT Skills to Help Kids Cultivate a Growth Mindset and Build Resilience
Out of Stock In Store
A fun and engaging workbook to help kids ages 6-12 build resilience, perseverance, and a growth mindset
As a parent, you want to give your child a solid foundation for living a happy, successful life. But if you have a child who is easily sidelined by obstacles, has trouble bouncing back from setbacks, who melts down easily, or gives up quickly when things get tough--you may worry about their ability to succeed in our competitive, high-pressure world. So, how can you help your child develop grit--a trait that embodies tenacity and self-control?
Fortunately, grit can be learned. Written in a kid-friendly tone and grounded in cognitive behavioral therapy (CBT), The Grit Workbook for Kids offers a unique approach for learning and practicing the tools, strategies, and skills that make up grit. These activities will help your child:
Build stamina
Keep perspective
Be optimistic
Solve problems
Cope with change
Practice mental flexibility
Stick up for themselves
Build good relationships
And much, much more
Grit is key to helping kids succeed in what they want or need to do--whether that's getting good grades, making the sports team, or just building an awesome treehouse. By practicing the skills and activities outlined in this accessible workbook--whether on their own or with you--your child will gain powerful tools to help them thrive, well into adulthood.
Elisa Nebolsine, LCSW, is owner and clinician at CBT for Kids, a private practice in Falls Church, VA. She is also adjunct faculty at the Beck Institute for Cognitive Behavior Therapy, adjunct faculty at Catholic University, and diplomate of the Academy of Cognitive Therapy. She has presented locally and nationally on the topic of cognitive behavioral therapy (CBT) and children, and is a consultant for schools, agencies, and other organizations on the implementation and use of CBT with children. Foreword writer Judith S. Beck, PhD, is director of the Beck Institute for Cognitive Behavior Therapy and past president of the Academy of Cognitive Therapy. Daughter of influential founder of cognitive therapy, Aaron T. Beck, Beck is author of The Beck Diet Solution.