What Happened to Make You Anxious?: How to Uncover the Little "T" Traumas That Drive Your Anxiety, Worry, and Fear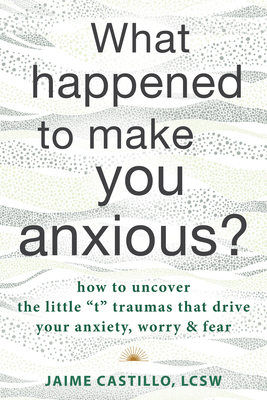 What Happened to Make You Anxious?: How to Uncover the Little "T" Traumas That Drive Your Anxiety, Worry, and Fear
Out of Stock In Store
Listen up It's time to change the way you manage your anxiety--by working with it rather than against it. This revolutionary guide provides the key to understanding the root cause of your anxiety, so you can break free from its grip.
Let's face it: anxiety can interfere with every single aspect of your life, from work and family to relationships and finances. Left unchecked, the cycle of anxiety reinforces and perpetuates itself over time, and can leave you feeling paralyzed with fear. You've probably attempted to "get rid of" or "outrun" your anxiety, only to find your symptoms growing even stronger. What you need is a new way to deal with anxiety: one that emphasizes listening to what your anxiety is trying to tell you.
In What Happened to Make You Anxious?, anxiety expert Jaime Castillo offers a whole new approach; one that focuses less on avoiding or extinguishing anxiety, and more toward understanding and working with it to create a fulfilling, meaningful life. You'll learn how your anxiety is connected to what Castillo refers to as "little 't' traumas"--seemingly small, unhealed traumas from your past that drive your fear and worry, so you can get to the root of your anxiety and start healing.
Your anxiety works overtime communicating perceived threats; this book will show you how to listen to anxiety, discern which threats are real, which don't fit the actual facts of the situation, and which are triggered by past events. Once you and your anxiety are on the same page, anxiety will loosen its grip--freeing you up to live with clarity, confidence, and serenity.
You've tried managing it on your own. You may have even received treatment. If you're at your wit's end when it comes to your anxiety, this book will show you a new path toward lasting relief.
Jaime Castillo, LCSW, is founder of Find Your Shine Therapy, and a licensed clinical social worker specializing in the treatment of trauma and anxiety disorders. She is a certified eye movement desensitization and reprocessing (EMDR) therapist and EMDRIA-approved consultant, and has additional training in internal family systems (IFS) and exposure therapy. She specializes in working with adults experiencing post-traumatic stress disorder (PTSD), obsessive-compulsive disorder (OCD), phobias, and generalized anxiety disorder (GAD). Jaime has been featured for her trauma expertise in The Arizona Republic, The Verge, and Phoenix Voyage Magazine where she was named a Top Inspiring Phoenix Professional. She was a speaker at the 2020 Global Resiliency Summit alongside world-renowned mental health professionals, and appeared as a guest trauma and shame expert on The Things We Couldn't Say podcast.
ISBN: 9781684038756
ISBN-10: 9781684038756
Publisher: New Harbinger Publications
Publication Date: 06/01/2022 - 12:00am
On Sale: 06/01/2022 - 12:00am
Pages: 184
Language: English
Categories