Teenage Mutant Ninja Turtles Universe, Vol. 4: Home (TMNT Universe #4)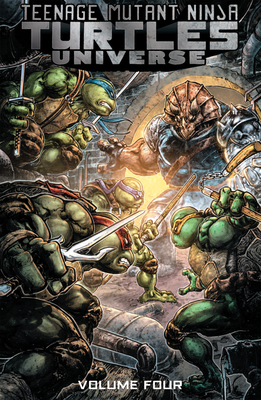 Teenage Mutant Ninja Turtles Universe, Vol. 4: Home (TMNT Universe #4)
Comics' biggest creators make their mark on the Turtles universe! Go beyond the main series in this exciting anthology of stand-alone stories.

Discover the secret origins of the Triceratons: how they began on Earth, what that means for their return, and how they successfully rebelled against their Utrom captors! Plus, the Turtles fight to save their city, but become trapped in tight quarters when NYC is evacuated. Will they find a way to freedom without driving each other crazy? Then, Raphael and Alopex go undercover at Null Industries where they find more than they bargained for, including very angry mutants!

Collects issues #16-20.
Chris Mowry is a veteran of both the US Navy and the video game industry, having worked for Midway and Sega. For over ten years he has worked for IDW as a Senior Graphic Artist, where he has also written a number of titles. His first project, Transformers: The Reign of Starscream, led to more Transformers-related books, like Transformers: Alliance and Transformers: Defiance (which both appeared on the New York Times-bestseller list). After that, Chris, a lifelong kaiju fan, had a dream come true writing the longest-running Godzilla series in comic history, Godzilla: Rulers of Earth. He's also written for several other Godzilla series as well as other franchises like Teenage Mutant Ninja Turtles and Street Fighter.

Giannis Milonogiannis is a Greek comic book artist who was born in Maryland and grew up on the island of Crete. He gained prominence in the American market with his webcomic Old City Blues which was released in physical form by Archaia. From 2012 to 2016 he was one of the co-plotters and artists on Brandon Graham's relaunch of Extreme Studios' Prophet.