Tiny Tots Peep-Through: Colorful Trucks (Tiny Tots Peep Through)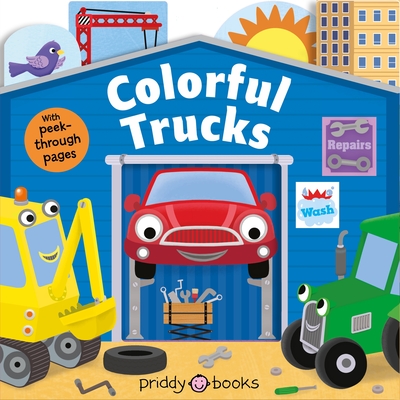 Tiny Tots Peep-Through: Colorful Trucks (Tiny Tots Peep Through)
Out of Stock In Store
Roger Priddy's Tiny Tots Peep-Through: Colorful Trucks is the perfect first novelty book for children who love trucks, cars and tractors.

Following on from Tiny Tots Peep-Through: 10 Fluffy Ducklings, this book includes peep-through die-cuts and tabs which have real pick-up appeal.

Each page of this sturdy board book is shaped and cleverly layered to create a fun scene that introduces a different color. The clever shaped tab format gives it gift value and encourages learning fun, making it the perfect treat for babies.

Children will love the exciting scenes of trucks helping out on the farm, having fun at the beach, competing at a monster truck competition, working hard at the building site and being fixed at the garage. Each truck is a different color, adding a soft-learning first concept theme to this book. This book encourages young children to explore reading in an interesting, dynamic new book format.

Also available in the series: Tiny Tots Peep-Through: 10 Fluffy Ducklings.
Roger Priddy's passion for educating children through fun, informative and engaging books has led him to create some of publishing's most enduring and successful nonfiction early learning books. Bestselling titles include First 100 Words, Bright Baby Animals, and Alphaprints: ABC. Roger lives in London and has three children, who have been the inspiration behind many of his best publishing ideas.