Jake the Growling Dog Goes to Doggy Daycare: A Children's Book about Trying New Things, Friendship, Comfort, and Kindness.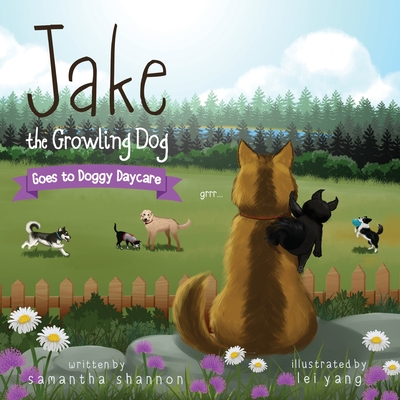 Jake the Growling Dog Goes to Doggy Daycare: A Children's Book about Trying New Things, Friendship, Comfort, and Kindness.
Out of Stock In Store (Click to Order)
From the Author of the #1 New Release, Jake the Growling Dog, comes Jake's next adventure
Jake is off to daycare, but he's worried about what's in store.
Going somewhere new can be scary--trying something different, even more.
How will he get ready, and what will help him through?
What will bring him comfort and help prepare him for something new?
Follow Jake a kind misunderstood dog as he travels away from home for the first time.
Jake loves his comfy bed, close friends, and favorite trail, but now he's off to Doggy Daycare. He's worried others won't like him and run away, and he doesn't want to leave the place he knows best. Will Jake overcome his worries and have fun? Will he be the only one nervous about being in a new place? Kindness, comfort, and aid from loved ones fill this tale with compassion.
Interactive, Colorful, and Fun Follow along with Jake's new story while enjoying colorful interactive illustrations. Each bright spread includes a seek and find and counting activity for the five Kindness Critters, bright colors to spot and learn, and cute furry friends to giggle and find. Looking for Books about New Experiences and Stress Management for Kids?
Author and licensed educational counselor, Samantha Shannon, brings Jake back for this second, fun-loving tale about new adventures, friendship, handling stress, and overcoming fear.
We've all been nervous about a new experience, and Jake's tale not only shows kids that they aren't alone in having those butterflies in their tummy it also gives them gentle ideas on how to handle worries and fears while having a blast with their favorite growly character and his furry friends.
Includes Conversation Starters and Activities for Children, Families, Schools, and Counselors to help with confidence, stress, and preparing for new experiences.
This story is packed with loads of fun, while also educating our little ones that they can overcome fears and cope with stress in a variety of ways. After the story, this interactive picture and activity book includes important social emotional development talking points about why trying new things is important, what stress is and how it makes us feel, ways to cope with nerves and worries, a child-friendly discussion prompt about mindfulness, and a breathing activity. These activities are perfect for families, schools, and counselors to help children reduce stress and bring families and friends closer together by encouraging healthy coping skills, imagination, and understanding the mind and body.
A Positive Story to Promote Self-Confidence and Empathy
Jake's story encourages children to not only try new things for themselves, but to also be kind to others who may be nervous as well. These topics are discussed in subtle, sweet, and impactful ways for both young readers and the supportive adults in their lives. Knowing they aren't alone and that others may need support, encouragement, or a little kindness helps create a kinder world, to appreciate differences, and to find connections.
Ages and Grades
While many kids in grades K-5 (ages 6-11) will enjoy reading this story on their own or with assistance, parents and grandparents, Jake's books are also colorful and cute for pre-school kiddos and baby as well. Older children and pre-teens to adults will also appreciate the illustrations, discussion, and activities to do as a family or in schools and counseling offices.
The Perfect Gift
Need a gift for a baby shower or birthday? Jake the Growling Goes to Doggy Daycare is the perfect gift for the mother-to-be, a child's birthday, holiday's, and graduations. Plus, the ebook is FREE when you buy a print version.
ISBN: 9781734744705
ISBN-10: 9781734744705
Publisher: Rawlings Books LLC
Publication Date: 03/30/2020 - 12:00am
On Sale: 03/30/2020 - 12:00am
Pages: 52
Language: English
Categories