Swing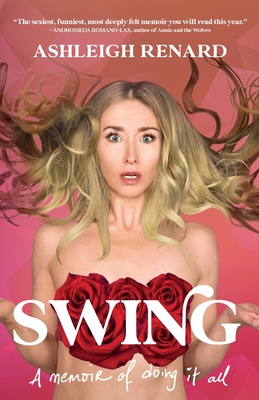 Swing
Out of Stock In Store (Click to Order)
PERFECTIONIST MOM TAKES DOING IT ALL TO THE NEXT LEVEL AS THE WORLD'S WORST ATTEMPTED SWINGER
Waiting in line to use the bathroom in a fancy New York City sex club is just like waiting to use the bathroom anywhere else. Well, anywhere else that people walk around half-naked. And anywhere else that you must send in a bio and full-body photo before being added to the invite list. Besides those things, it's like waiting in line for the bathroom anywhere else.
Raised in figure skating, Ashleigh brought the quest for perfectionism into marriage and motherhood. Three kids and a decade later, she and her husband think a little sexy fun may be the perfect remedy for the exhaustion of hard-core adulting. Everyone deserves a little break, don't they?
From sex clubs to invite-only parties to dating apps for couples, Ashleigh awkwardly discovers they've made a slight miscalculation, underestimating the complexities of the lifestyle and overestimating the strength of their marriage. Hilarious, heartbreaking, and hopeful, what will she do when she realizes she's taken "doing it all" to a level she never intended?
PRE-ORDER NOW AND GET THE AUDIOBOOK FOR FREE
To claim your free audiobook, send a screenshot of your order to orders@manitobawomanmedia.com.
"Renard's narrative voice is lighthearted and witty ... a thoughtful work that delves into the intricacies of marriage and longing."
Kirkus
"Swing is the sexiest, funniest, most deeply felt memoir you will read this year."
Andromeda Romano-Lax, author of Annie of the Wolves and Behave
"In Swing Ashleigh Renard has created an entirely new genre: the hot self-help book. With its wit and grace and wisdom-and some steamy interludes-this book belongs on your shelf next to Glennon Doyle and Brene Brown and Luvvie Ajayi."
Dr. Deborah Williams, Professor, NYU
"Charming, hilarious, and deeply wise, Ashleigh Renard's remarkable debut is that rare thing: A memoir that both entertains and instructs."
Joanna Rakoff, author of A Fortunate Age, My Salinger Year, and The Fifth Passenger (forthcoming)
ISBN: 9781736596883
ISBN-10: 9781736596883
Publisher: Mw Books
Publication Date: 05/25/2021 - 12:00am
On Sale: 05/25/2021 - 12:00am
Pages: 302
Language: English
Categories
Marriage & Long Term Relationships