How to Achieve Educational Equity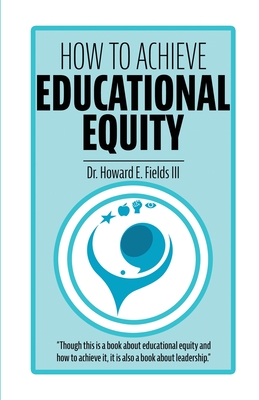 How to Achieve Educational Equity
Out of Stock In Store
As educators, we must be as specific as possible when using certain terms, especially when those terms and our knowledge of them hold the keys to so many students' success. Considered by many to be one of the most important concepts in education to understand and apply, educational equity is a term that we are all familiar with, but may also have a plethora of meanings, depending upon the context in which it is used. Educational equity can be a lot of things, but it is certainly not the popular and overutilized image that depicts kids watching a baseball game while standing on boxes. To frame it in this manner oversimplifies the complexities associated with educational equity.
Educational equity must be more intentional than that and thus, should be defined as creating and/or eliminating policies, systems, and practices in schools that impact the experiences, outcomes, and access to resources for students from previously excluded groups.
On April 9th, How to Achieve Educational Equity will provide educational experiences and actionable steps to help all those who have decided to embark on the educational equity journey.
The author, Dr. Howard E. Fields III, possesses the reputability, knowledge, credentials, and writing prowess to adequately convey such an important topic that will certainly challenge our thinking and enhance learning outcomes for all students. As an Assistant Superintendent of Human Resources, Adjunct Professor, Co-founder of both Black Males in Education St. Louis (BMESTL) and EduOpenings.com, his perspective and focus on remaining student-centered, yet equity-focused, has made him an emerging sought out speaker. Dr. Fields' unapologetic leadership and authenticity played a role in being recognized as the 2020 National Elementary Distinguished Principal from Missouri and the 2017 International Networked Digital Library of Thesis and Dissertation innovative research award recipient.
Given all of this, How to Achieve Educational Equity will certainly be a successful resource in the education and educational policy area for years to come.
Early feedback from educational practitioners includes the following review:
"How to Achieve Educational Equity is truly a thought provoking and practical call to action that will benefit many educators for years to come, regardless of where they are in their understanding of equity. Dr. Fields has created a concrete framework equipped with multiple entry points into taking action towards achieving equity in schools. This book makes inequities - arguably the most insurmountable issue in education to date - feel possible to tackle through courage, collaboration, and accountability. Thank you, Dr. Fields, for your contribution to the field of education "
- Dr. Shenita Mayes, Middle School Principal
ISBN: 9781736931813
ISBN-10: 9781736931813
Publisher: Dr. Howard E. Fields III
Publication Date: 04/09/2021 - 12:00am
On Sale: 04/09/2021 - 12:00am
Pages: 152
Language: English
Categories