The Red Devil: The story of South Australian aviation pioneer, Captain Harry Butler, AFC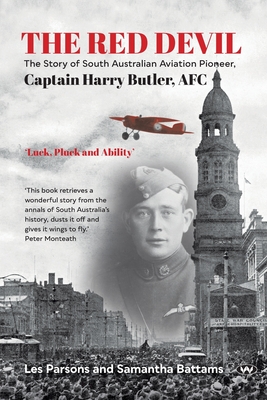 The Red Devil: The story of South Australian aviation pioneer, Captain Harry Butler, AFC
Captain Harry Butler, AFC, was a national hero in the early 1920s. Hailed as a top aviator, his legacy continues to this day, yet he has been largely forgotten.

Harry Butler returned from war with two aircraft and dreams of starting an industry. With his little crimson monoplane, Red Devil, Captain Butler inspired many thousands as he performed aerial shows in support of Peace Loan efforts. He made the first airmail crossing over a significant body of water in the Southern Hemisphere; established, with the famous engineer Harry Kauper, the first passenger flight business in South Australia; took the first aerial photographs; and set up what became the first Commonwealth Government airport in Adelaide.

From Butler's childhood in the tiny farming community of Minlaton, where he was inspired by stories of early flight experimentation, to his role as a senior flight instructor in the Royal Flying Corps in England and his postwar experiences, The Red Devil tells the story of a pivotal figure in early aviation in Australia and, through his pilot training role, throughout the world.
ISBN: 9781743056721
ISBN-10: 9781743056721
Publisher: Wakefield Press
Publication Date: 07/08/2019 - 12:00am
On Sale: 07/08/2019 - 12:00am
Pages: 270
Language: English
Categories