Casey: The Remarkable, Untold Story of Frederick Walker Casey Baldwin: Gentleman, Genius, and Alexander Graham Bell's Protégé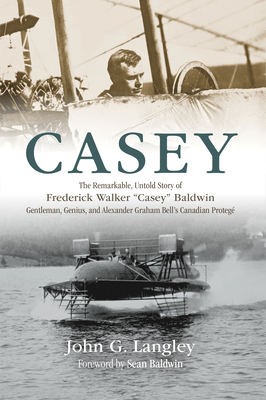 Casey: The Remarkable, Untold Story of Frederick Walker Casey Baldwin: Gentleman, Genius, and Alexander Graham Bell's Protégé
Frederick Walker Casey Baldwin--athlete, engineer, aeronaut, sailor, politician, activist, conservationist--was a true gentleman, modest to a fault. As one of Alexander Graham Bell's young associates, Casey was the first Canadian, and the first born in the British Empire, to fly--a full eleven months before the historic 1909 flight in Baddeck of the Silver Dart. Casey became the son Alec and Mabel Bell never had. Dr. Bell described him as quite a genius...the best blood of Canada.
Gleaned from hundreds of pieces of heretofore unseen Baldwin correspondence, Casey is the untold story of true genius, epic accomplishments, and the stunning failure by Canada to seize upon and recognize those achievements. With this biography, Langley gives honour where honour is due.
Includes over 30 black and white images and a foreword by Casey's grandson, Sean Baldwin.
Forward by Sean Baldwin Preface Timeline 1 Paradise Found: A Book, a Boat, the Bells, and Baddeck 2 Frederick Walker Casey Baldwin: Blueblood 3 Homecoming at Baddeck 4 The Aerial Experiment Association: A Brilliant Coterie 5 Getting Into the Air: Those Magnificent Men in Their Flying Machines 6 Canadian Aerodrome Company: The Birth of the Canadian Aerospace Industry 7 Aerodrome Park 8 Changing Fortunes: Bells and Baldwins 9 The End of the CAC and the Start of a World Tour 10 Globe-Trotting & Barnstorming 11 Regrouping at Beinn Bhreagh 12 For the Love of the Bras d'Or 13 A Call to Arms 14 Personal Loss and the Curtiss Affair 15 World Water Speed Record and Other Maritime Milestones 16 Stand by Casey 17 Targets, Tuberculosis, and Tragedy 18 Heart's in the Highlands 19 National Aviation Day and Barnstorming Bluenose 20 When All is Said and Done 21 Honour to Whom Honour is Due Acknowledgements Selected Bibliography Image Credits Index
ISBN: 9781771088039
ISBN-10: 9781771088039
Publisher: Nimbus Publishing Limited
Publication Date: 08/22/2019 - 12:00am
On Sale: 02/28/2020 - 12:00am
Pages: 312
Language: English
Categories
Canada - Post-Confederation (1867-)