The Unique Lou Fox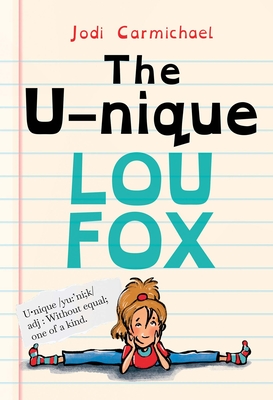 The Unique Lou Fox
Pre-Order (Not Yet Published)
Now in paperback Award-winning author Jodi Carmichael, who has ADHD herself, affirms and celebrates those who struggle with their uniqueness and triumphantly discover its gifts
It isn't easy being Louisa Elizabeth Fitzhenry-O'Shaughnessy--especially with dyslexia. She prefers
Lou Fox
, the dream name she'll use one day as a famous Broadway playwright. In the meantime, Lou is stuck in fifth grade with Mrs. Snyder, a total Shadow Phantom of a teacher who can spot a daydream from across the room but doesn't know anything about ADHD. Mrs. Snyder's constant attention is
ex-cru-ci-a-ting
. If only she would disappear.Fortunately, life isn't all
a-tro-cious
. There's
The Haunting at Lakeside School
, the play Lou is writing and directing for her two best friends. And soon she'll be a big sister at last. Nothing could ruin the joy of those things...right?
"In Lou Fox, Carmichael has created a refreshing, believable, and fun-loving protagonist....Prepare to fall in love with Lou Fox and her supportive cast of family, friends, and teachers."--School Library Journal"The book...strikes an excellent balance between acknowledging the that hardships disabilities bring and making it clear that disabilities do not define people--they can even be strengths....Both humorous and melancholy, The U-nique Lou Fox is a touching novel about a young playwright's self-discovery and creative triumphs."--Foreword Reviews
Jodi Carmichael is a multi-award-winning authorand a champion for the underdog and for kids who think differently. Like Lou inThe U-nique Lou Fox, Jodi has ADHD and celebrates the creativity, empathy, and adventurousness it brings to her life. Her other books include theYA novel Forever Julia which won The Manitoba Book Award and the BronzeMoonbeam Award, the middle-grade novel Family of Spies: Paris, andthe chapter book Spaghetti is NOT a Finger Food and Other Life Lessons, which won the Silver Moonbeam Award and the Silver Benjamin Franklin Award.Jodi lives in Winnipeg, Manitoba with her family.
ISBN: 9781772782929
ISBN-10: 9781772782929
Publisher: Pajama Press
Publication Date: 08/22/2023 - 12:00am
On Sale: 08/22/2023 - 12:00am
Pages: 240
Language: English
Categories