Intuitive Eating: The Practical Guide to Develop Intuitive Eating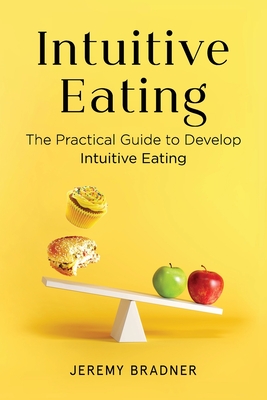 Intuitive Eating: The Practical Guide to Develop Intuitive Eating
Out of Stock In Store
How many diets have you tried that you can say truly worked?
Estimates suggest that 45 million Americans go on a diet each year, but the vast majority of them slip back into their old habits and regain the weight they lost within less than a few months.
There's a reason for that.
Diets aren't natural. The US weight loss industry is estimated to be worth over $60 billion: it's a commercial enterprise, and it doesn't have your best interests at heart. Fad diets don't focus on nutrition, and they take us further away from what our bodies do naturally. The more diets we try, the more lost we become.
Have you found yourself chasing the perfect body? Desperately yearning for the Hollywood physique? You're not the only one. That's how culture programs us to think. But there's no such thing as one perfect body: the perfect body is the one you've got.
What if there was an easy way to feel good about yourself, feel in tune with your body, and shake off the diet culture? You guessed it: there is. And it's a skill you were born with
.
All babies are born with the ability to eat intuitively. You were born with the ability to eat intuitively. It isn't a diet: it's a way of eating how nature intended, boosting nutrition and shedding any excess pounds you might be carrying in the process.
By learning how to practice intuitive eating, you can improve your health, happiness and mindset all in one go. You just need to learn how to listen to your body.
In Intuitive Eating: The Practical Guide to Develop Intuitive Eating, you'll be given the tools you need to get back to basics and change your diet mentality forever. You'll discover:
How to set achievable health goals
6 simple strategies to strengthen your intuition
The secret to not eating your emotions
The #1 mistake everyone makes when they're trying to lose weight
The 10 key principles of intuitive eating
How to shift your mindset for good
How to love food again
How to recognize satiety - and respond to it appropriately
Why rules and restrictions don't work
The reason 90% of diets set you up to fail
The right way to riot against the food police
And much more.
If this all sounds too good to be true, you've been programmed by the diet industry. Intuitive eating is a natural way of living promoted by experts in diet and nutrition. Healthy living isn't complicated: it's what you were born to do naturally. If you learn to listen to your body, you'll realize that it already knows what to do.
By learning the principles of intuitive eating, you can free yourself of the diet mentality and learn to love yourself and your food. When you develop the skills to tune into your body, you will pave the way for all your health goals to fall into place. Stop trying to lose weight, and you'll discover that you will.
Over 1 billion adults in the world are overweight. That's because we're out of touch with our bodies. The diet industry doesn't have the answer: your body does. And you're just one click away from learning how.
If you're ready for a new healthy you, then get this book today. Learn to harness the power already within you, and ditch the diets for good.
ISBN: 9781777262617
ISBN-10: 9781777262617
Publisher: Elkholy
Publication Date: 06/16/2020 - 12:00am
On Sale: 06/16/2020 - 12:00am
Pages: 64
Language: English
Categories