The Best Science Fiction and Fantasy of the Year, Volume Thirteen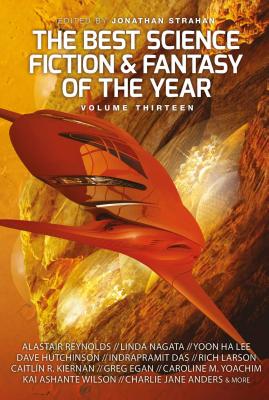 The Best Science Fiction and Fantasy of the Year, Volume Thirteen
Unavailable
The finest short science fiction and fantasy, from the master anthologist

A librarian helps a desperate student find the door into a book; Sir Thomas Moore's head is stolen and a messy rescue ensues; a mother sells a piece of her memory so her daughter can afford an education.

Science fiction is the story of what if and what comes next. It's more playful, more inclusive and more entertaining than it has ever been before and as the world falls apart around us, it offers us a chance to understand how things could be better, or just how a great story can get us through another night.

The Best Science Fiction and Fantasy of the Year: Volume Thirteen brings together the very best clashes between zombies and unicorns, robots and fairies, spaceships and more in a definitive volume that takes us everywhere from the distant future and the moons of our own solar system, to one last visit to Earthsea...

Featuring stories from Kelly Barnhill // Elizabeth Bear // Brooke Bolander // Zen Cho // P. Djèlí Clark // John Crowley // Andy Duncan // Jeffrey Ford // Daryl Gregory // Alix E. Harrow // Maria Dahvana Headley // Simone Heller // S. L. Huang // Dave Hutchinson // N. K. Jemisin // T. Kingfisher // Naomi Kritzer // Rich Larson // Ursula K. Le Guin // Yoon Ha Lee // Ken Liu // Carmen Maria Machado // Annalee Newitz // Garth Nix // Naomi Novik // S. Qiouyi Lu // Kelly Robson // Vandana Singh // Tade Thompson // Alyssa Wong
Jonathan Strahan is a World Fantasy Award award-winning editor, anthologist, and podcaster. He has edited more than 70 books, is reviews editor for Locus, a consulting editor for Tor.com, and co-host and producer of the Hugo-nominated Coode Street Podcast.

Yoon Ha Lee's novel Ninefox Gambit came out from Solaris in 2016 and quickly garnered massive critical acclaim and was short-listed for the Arthur C. Clarke, Hugo and Nebula Awards. It won the Best First Novel Award in the Locus Awards and the Reddit Fantasy Award. His story collection Conservation of Shadows was released by Prime Books in 2013. He lives in Louisiana with his family and an extremely lazy cat, and has not yet been eaten by gators.

Tade Thompson lives and works in the south of England. He is the author of the novels Making Wolf (which won the Golden Tentacle Award at the 2016 Kitschies) and Rosewater. His short fiction has been published at Interzone, Escape Pod, Apex Magazine, Ideomancer, and Interfictions. His work has been included in a number of anthologies including Dangerous Games. His background is in medicine, psychiatry and social anthropology.

Dave Hutchison is the multi-award winning author of the critically acclaimed Fractured Europe series for Solaris: Europe at Autumn, Europe in Winter, Europe at Midnight and Europe at Dawn.