Wastelands: The New Apocalypse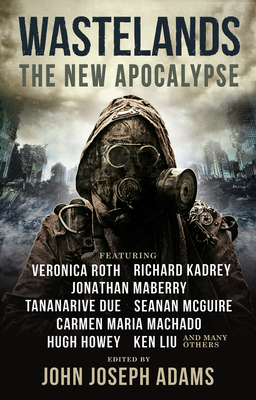 Wastelands: The New Apocalypse
Out of Stock In Store (Click to Order)
The brilliant new post-apocalyptic collection by master anthologist John Joseph Adams, for the first time including new stories by the edgiest modern writers.

WASTELANDS, the unsurpassed collection of thrilling and mind-bending post-apocalyptic short fiction, is breaking new ground. For the first time, volume three--THE NEW APOCALYPSE--will feature ALL-NEW stories by some of the most acclaimed authors today, including New York Times bestsellers Veronica Roth (Divergent), Richard Kadrey (Devil Said Bang), Scott Sigler (Alive), Seanan McGuire (The Winter Long), Tananarive Due (The Good House), and many more!

Continuing the tradition that made the earlier volumes definitive, this collection also will feature reprints of the best post-apocalyptic works of recent times. The who's who of short fiction will include Catherynne M. Valente, Ken Liu, Carrie Vaughn, Nisi Shawl, Timothy Mudie, Sofia Samatar, and Shaenon K. Garrity. Representing a diverse range of philosophies and points of view, WASTELANDS: THE NEW APOCALYPSE will be as essential as the original anthologies.
JOHN JOSEPH ADAMS serves as series editor of Best American Science Fiction and Fantasy and is the editor of more than thirty anthologies, including Wastelands and The Living Dead. Recent books include A People's Future of the United States, Cosmic Powers, Press Start to Play, Loosed Upon the World, and The Apocalypse Triptych. Called "the reigning king of the anthology world" by Barnes & Noble, John is a two-time winner of the Hugo Award (for which he has been a finalist twelve times) and an eight-time World Fantasy Award finalist. He is also the editor of John Joseph Adams Books (an imprint of Houghton Mifflin Harcourt) and the digital magazines Lightspeed and Nightmare, and is a producer for WIRED's Geek's Guide to the Galaxy podcast. Find him online at johnjosephadams.com and @johnjosephadams.
ISBN: 9781785658976
ISBN-10: 9781785658976
Publisher: Titan Books
Publication Date: 04/20/2020 - 12:00am
On Sale: 04/20/2020 - 12:00am
Pages: 528
Language: English
Categories
Fiction / Anthologies (multiple authors)