Bao: Asian-style buns, dim sum and more from your bamboo steamer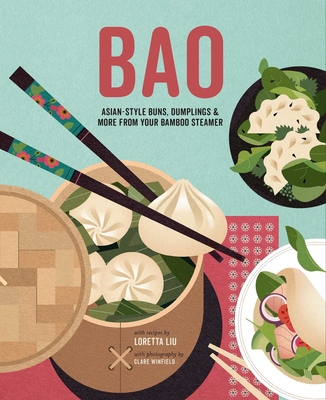 Bao: Asian-style buns, dim sum and more from your bamboo steamer
Out of Stock In Store
Unlock the potential of your bamboo steamer with 65 delicious recipes for Asian bites and street food style treats, from bao buns to dim sum.

Bamboo steamers are at the heart of simple Asian cooking, producing everything from fluffy pork bao buns to steamed Chinese chicken. This collection of recipes will help you use this simple and effective cooking tool from ancient China to produce vibrant and tasty treats. Whip up "pillows of joy" in delicious bao bun recipes and make fluffy, edible clouds of doughy yumminess that pack a sweet and savory punch in one hit, alongside a range of other dumplings and Asian street foods. Steamed chicken, fish, vegetables, and sticky rice have never been easier to whip up. Unlock a whole new world of Asian cooking with these recipes, and discover the incredible flavours and textures that can be created in your bamboo steamer.
International award-winning chef Loretta Liu has worked as a chef at many prestigious establishments, including The Raffles Hotel in Singapore and Raymond Blanc's Le Manoir Aux Quat' Saisons. She now has her own pâtisserie and cookery school, On Café, and her On Macarons are bestsellers in Harvey Nichols, London.