Fearless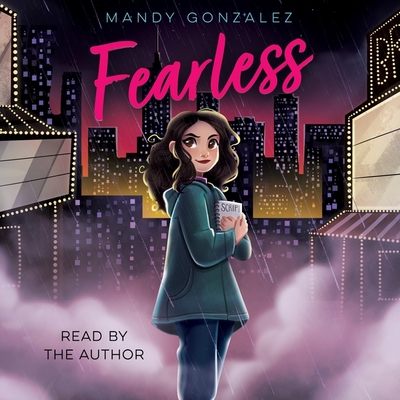 Better Nate than Ever meets Love Sugar Magic in this spooky middle-grade novel from Hamilton and Broadway star Mandy Gonzalez about a group of young thespians who must face the ghost haunting their theater.
The Ethel Merman Theater is cursed. No one is sure how or why, but the evidence speaks for itself. Show after show has flopped and the theater is about to close. Enter 12-year-old Monica Garcia, who has been cast to star in a Broadway musical revival of The Goonies, the theater's last chance to produce a hit before it shutters its doors for good.
The kids in the cast each have their own reasons for wanting to make the show a success, and all eyes in the theater world are on them. Will this show finally break the curse of the Ethel? The kids aren't quite sure if the curse is even real, but when their first performance doesn't quite go as planned, it certainly feels that way.
Then they realize the ghost light - the light that is always kept on at every theater in order to appease the ghosts - wasn't lit When the kids rush to flick the switch back on, they find themselves locked in the theater - but that's the least of their problems when the ghost of the Ethel makes her debut appearance
Can the cast overcome their fears and reverse the ghost's curse before opening night so they can save the show - and their dreams?
ISBN: 9781797123967
ISBN-10: 9781797123967
Publisher: Simon & Schuster Audio
Publication Date: 04/06/2021 - 12:00am
On Sale: 04/06/2021 - 12:00am
Language: English
Categories
Performing Arts - Theater & Musicals