Couples Counseling: 2 Books in 1: Communication and Relationship Workbook for Couples. How To Build Trust And Emotional Intimacy, Solve Co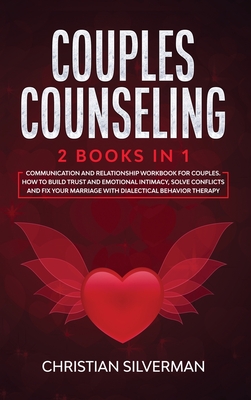 Couples Counseling: 2 Books in 1: Communication and Relationship Workbook for Couples. How To Build Trust And Emotional Intimacy, Solve Co
Do You Feel That The Spark Is Gone? Here's How To Bring It Back And Save Your Marriage
Do you miss the emotional intimacy you used to have?
Do you wonder why you can't stop arguing about random things?
Do you love your spouse but there are too many misunderstandings between you?
Don't file for divorce just yet.
Getting married is much easier than staying married. In the worst case, your love can get completely buried under a mountain of grudges, undone household chores, bad relationship habits, mediocre sexual experiences, and so on.
But if you still love each other, you can rebuild the trust and intimacy between you. You can rekindle the spark that you had when you first fell in love. You can find a way to talk about your differences without getting angry at each other.
These workbooks will teach you the techniques and exercises used by professional therapists in couples counseling.
The workbooks will help you:
Cultivate mindful habits that will instantly make both of you happier
Rekindle your passion and have good sex despite being married for years
Discover the REAL reason why you're arguing so much
Use dialectical behavior therapy to solve conflicts without anger and resentment
Have honest conversations about your relationship and fix problems quickly
The exercises and techniques in the workbooks will work even if you believe that your marriage is uniquely terrible. Dialectical behavior therapy and mindfulness are scientifically proven approaches that have already saved countless marriages - and they can save yours, too.
"Buy Now"
and Get Your Copy Now.
ISBN: 9781801189767
ISBN-10: 9781801189767
Publisher: Charlie Creative Lab
Publication Date: 11/01/2020 - 12:00am
On Sale: 10/24/2020 - 12:00am
Pages: 248
Language: English
Categories
Marriage & Long Term Relationships