GЕrmАn ShОrt Stories for Beginners: Learn The Language of Germany and English- German Grammar, Words and Vocabulary, Trаining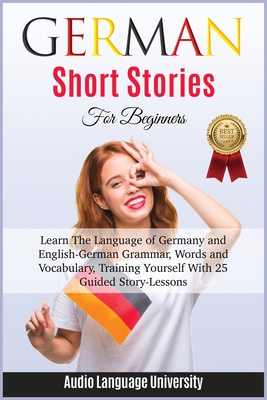 GЕrmАn ShОrt Stories for Beginners: Learn The Language of Germany and English- German Grammar, Words and Vocabulary, Trаining
Do you know what the hardest thing for a German learner is?
Finding PROPER reading material that they can handle... as this book
Another question: How is a student supposed to learn when language instructors love providing materials that are tough expert-level literature with tons of grammar and rules?
Teachers love to suggest books that present many new problems to the reader and force them to search for words in the dictionary every two minutes - it's not entertaining and a lot of students give up on this wrong teaching way
In this book, you will find:
Easy German stories targeted at beginners: Each story contains an important lesson in the German language (Verbs, Adjectives, Past Tense, Giving Directions, and more), involving an interesting and entertaining story with realistic dialogues and day-to-day situations.
How to develop your German listening skills, expand your German vocabulary, and improve your German pronunciation
German Grammar pills
Tips & Tricks to learn faster
The 25 easy-to-read, compelling and fun stories will allow you to expand your vocabulary and give you the tools to improve your grasp of the wonderful German tongue.
Every paragraph is translated and the book provides a clearer step-by-step comprehension of each sentence while trying to prevent the temptation that the reader might have, if discouraged, of giving up and reading the whole story in English.
In this way, you will experience relief from the frustrations you might have experienced when trying to learn German through a more rigid approach.
Say goodbye to scratching your head in confusion.
Forget about reading boring German textbooks that are so long you'll never reach the end.
Click now the Buy Now button and get your copy of German Short Stories For Beginners
ISBN: 9781801546256
ISBN-10: 9781801546256
Publisher: Daniela Mastrini
Publication Date: 01/07/2021 - 12:00am
On Sale: 01/07/2021 - 12:00am
Pages: 174
Language: English
Categories