Bedtime Stories for Kids: 20 Magic Lullaby Journeys to Help Children Fall Asleep Deeply and Fast, Build Confidence and Be Happy through Mindfuln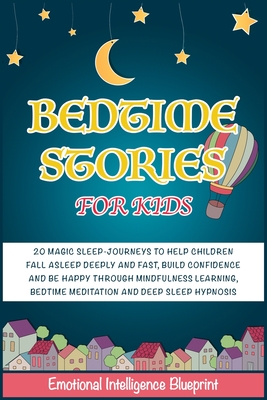 Bedtime Stories for Kids: 20 Magic Lullaby Journeys to Help Children Fall Asleep Deeply and Fast, Build Confidence and Be Happy through Mindfuln
Do your children have a hard time falling asleep at night?
Would you like to help them relax and fall asleep?
For kids, the unfortunate consequences of growing up in our busy, tech-connected society bring them to focus suffer, mental health suffers and sleep suffers.
Here a tested and smart method to help your children fall asleep.
These stories will bring your children into the magical world of fairy tales.
All the stories in the book have a moral: they will teach your children the principles of friendship, respect, and much more.
Bedtime stories are a great way to improve the interaction between you and your kids.
This book will help your children:
- fall asleep quickly and deeply
Grow their ability to feel gratitude
-Develop a better ability to focus
- Build confidence and self-esteem
Improve emotional intelligence skills
Develop imagination Skills
Mindfulness practices are a scientifically proven method for improving all of the above and a tool your child will carry with them for the rest of their life. And Each of these bedtime stories combines mindfulness practices and meditation.
Lay back and relax, little kids. The land of dreams awaits you.
What are you waiting for?
Scroll up and select the Buy now button
ISBN: 9781801546416
ISBN-10: 9781801546416
Publisher: Daniela Mastrini
Publication Date: 01/14/2021 - 12:00am
On Sale: 01/14/2021 - 12:00am
Pages: 232
Language: English
Categories
Life Stages - Infants & Toddlers - General