The Complete Air Fryer Cookbook 2 in 1: 250+ Amazing Recipes to Fry, Bake and Grill Delicious Meals with your Air Fryer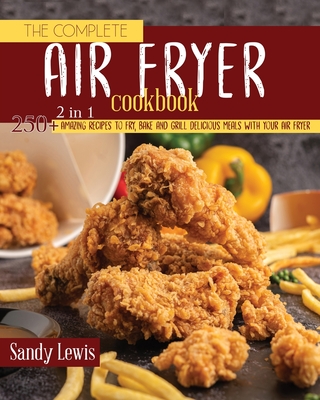 The Complete Air Fryer Cookbook 2 in 1: 250+ Amazing Recipes to Fry, Bake and Grill Delicious Meals with your Air Fryer
Enjoy The Complete Air Fryer Cookbook 2 in: 250+ Amazing Recipes to Fry, Bake and Grill Delicious Meals with your Air Fryer
Do you want to cook with your Air Fryer but don't know where to start? Stop worrying In this cookbook you'll learn super tasty and simple recipes.
Enjoy tons of benefits upon cooking with the Air fryer. The air fryer is the best option when it comes to cooking. You are looking at an alternative that will give you the best service while maintaining high-quality food processing.
Some of the benefits that " The Complete Air Fryer Cookbook 2 In 1 " comes with are:
-Requires fewer fats for cooking;
-Saves your time;
-Equipped with smart programs;
-Multifaceted appliance.
In this book, you will learn more about:
-Breakfast
-Mains
-Sides
-Seafood
-Poultry
-Meat
-Eggs and Dairy
-Vegetables
-Snacks
-Dessert
-... AND MORE
What are you waiting for? Don't wait anymore, press the buy now button and get started.
ISBN: 9781801590105
ISBN-10: 9781801590105
Publisher: Stratosphere Ltd
Publication Date: 01/18/2021 - 12:00am
On Sale: 01/18/2021 - 12:00am
Pages: 308
Language: English
Categories